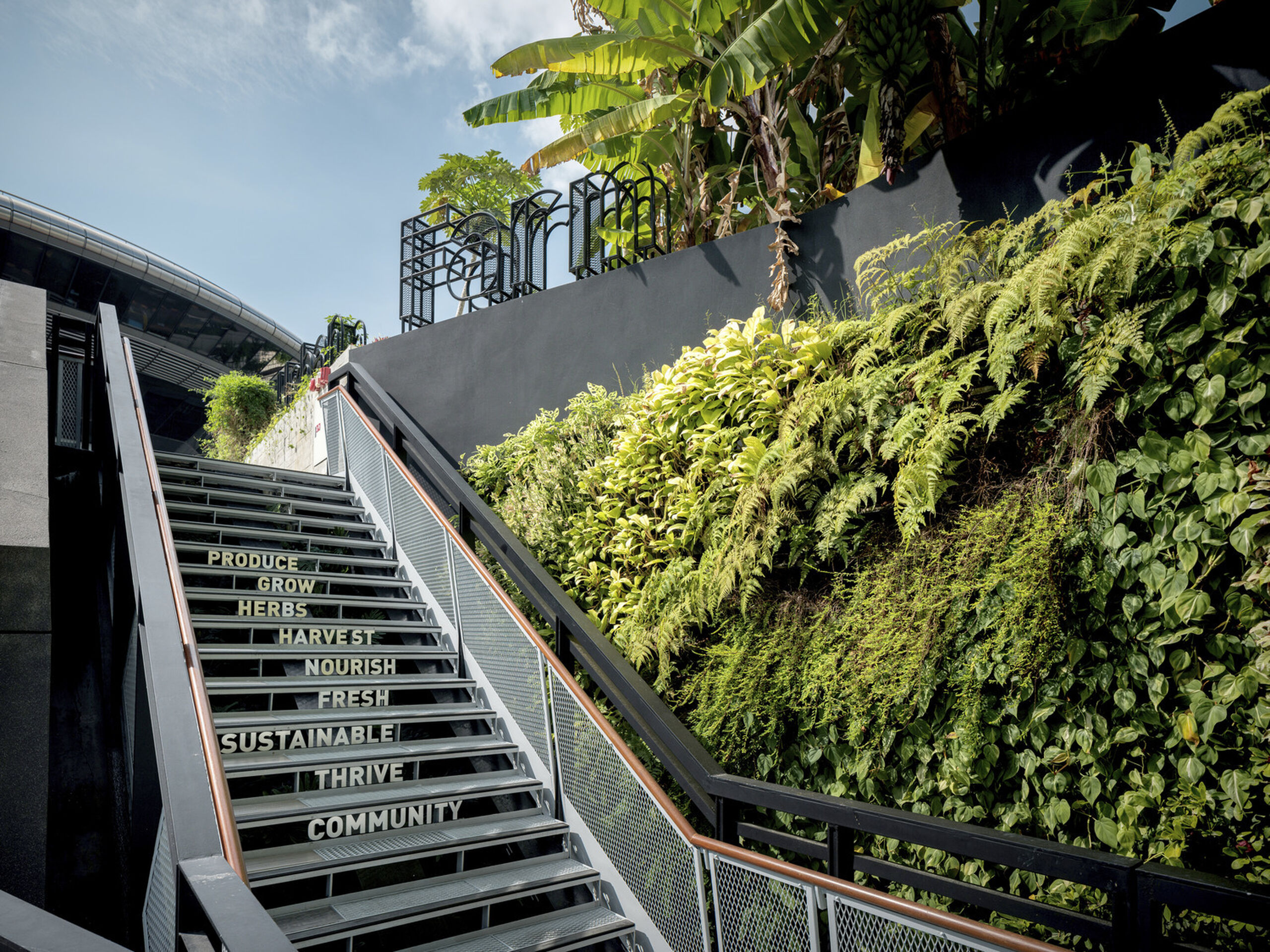 8th Feb 2022
Urban farming: will intentional landscapes shape the future of food production?
Food production has always been part of my family life; from growing up with chickens in the back garden to the joy that my current herb window-box brought during lockdown, interacting personally with the production of food can offer tremendous satisfaction. A strong movement is now growing within society that embraces the many benefits of urban farming, as more and more challenges emerge with traditional farming methods.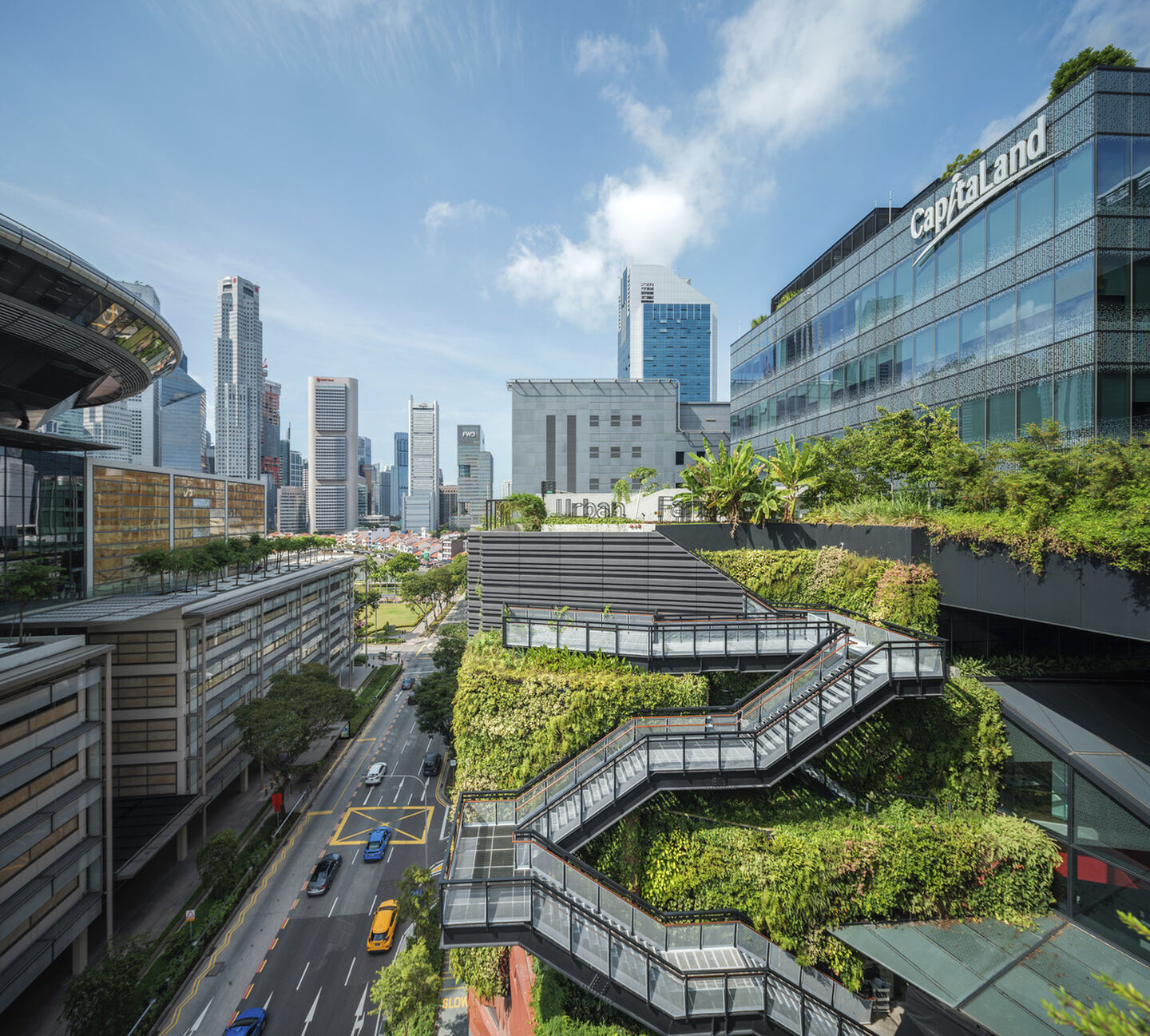 Connecting to nature in urban spaces
Rural farms are currently placed under great pressure to deliver ever-growing quantities of food, and in the face of this required intensification, soil degradation is inevitable. Intensive farming methods reduce the nutrient value of soils, while fertilisers, used to replenish the soil nutrients, often create problems of their own further down-stream. Ploughing the soil disturbs the natural biodegrading process and releases captured Co2, while heavy tractors compact the soil and prevent natural ground water collection, causing surface run-off and increasing the potential for flooding. No-till farming does address many of these issues, but still requires a land-use lower in biodiversity than wilder spaces.
These sizeable issues raise the question: should food production space now become an integral part of future-focused planning requirements?
There are numerous benefits to bringing food production into urban spaces, not least because doing so frees-up rural areas for regenerative agro-ecology, enables the capture of carbon in soil and improves biodiversity. From a planning standpoint, the strategic integration of urban farming spaces can reduce transportation distances from food to table, create valuable opportunities for people to learn about and interact with food production and de-centralise food production. From a wider environmental standpoint, reducing our reliance on rural farms affords these areas the chance to recover, with more space to absorb potential heavier rainfalls as a result of climate change, reducing the potential flooding in downstream urban areas.
Creative re-use
Exploring innovative new models for urban farming was the primary focus of a recent series of Singapore Food Agency engagement sessions that we were pleased to participate in at Grant Associates; in these sessions, it quickly became clear that a very strong connection exists between food diversity and resilience: by reducing our reliance on a single source of farming method, there is considerably less potential for future food chain disruptions. Rather than building carbon intensive infrastructure, could urban space actually be re-appropriated to help with food production? It's well worth considering; the 'urbanscape' offers a wide range of environments that, approached with a creative mindset, are well-suited to differing food production practices and urban types.
Vacant retail and commercial spaces: Throughout the pandemic, so many businesses worldwide have adopted hybrid working scenarios - but what if this scenario continues post-Covid? Would that leave urban office space unused, with the potential to creatively re-use? Similarly, with remote working and remote shopping rising exponentially over the last two years, will there be retail spaces left unused once the pandemic is finally behind us? Most of these spaces already have infrastructure that is well-suited to food production, including water, lighting, climate control, lifts and loading bays. Could unused spaces be appropriated by climatically-controlled vertical farming? And, much like has been witnessed in many old market towns, could urban farmers and authentic food experiences re-enliven high streets?
Public spaces: Planting in public spaces requires maintenance, but what if this planting was maintained through harvesting crops, providing a tangible pay-back for the maintenance efforts? Similarly, could park spaces also provide essential green infrastructure for managing food waste and food production by-products?
Residential gardens and terraces: These already accessible and looked after spaces present obvious possibilities for home-based food production. But could simple additions to new-build communities help further promote this and also build community? Would it be possible to add value to a development by including common use, organic composts, worm farms and insect hotels? Could a community App help residents share tips and resources?
Roof-tops: There are now numerous examples worldwide of small vegetable gardens emerging in roof-top environments. Singapore is seeing sizeable growth in this area: specialist urban farming companies like ComCrop and Citiponics are serving this rising trend amongst commercial businesses, while in the hospitality sector, a prime example is the Grand Hyatt Hotel's rooftop herb garden, maintained by in-house gardeners using the fertilisers produced by the hotel's in-house waste management plant, from which the hotel sources 30% of its herbs.
Singapore's Funan Mall also perfectly demonstrates how a strong commercial vision can seamlessly align with nature. The mall's podium level boasts a strong urban farm component, with tenants of the mall closely involved in the curation of the land. The result is a lifestyle mall with its own unique ecosystem; alongside the 5,000 square foot rooftop garden sits Japanese restaurant Noka, which harvests many of its key ingredients - such as basil, micro greens and oyster mushrooms - directly from Funan's urban farm, providing perfect synergy and a very unique user experience.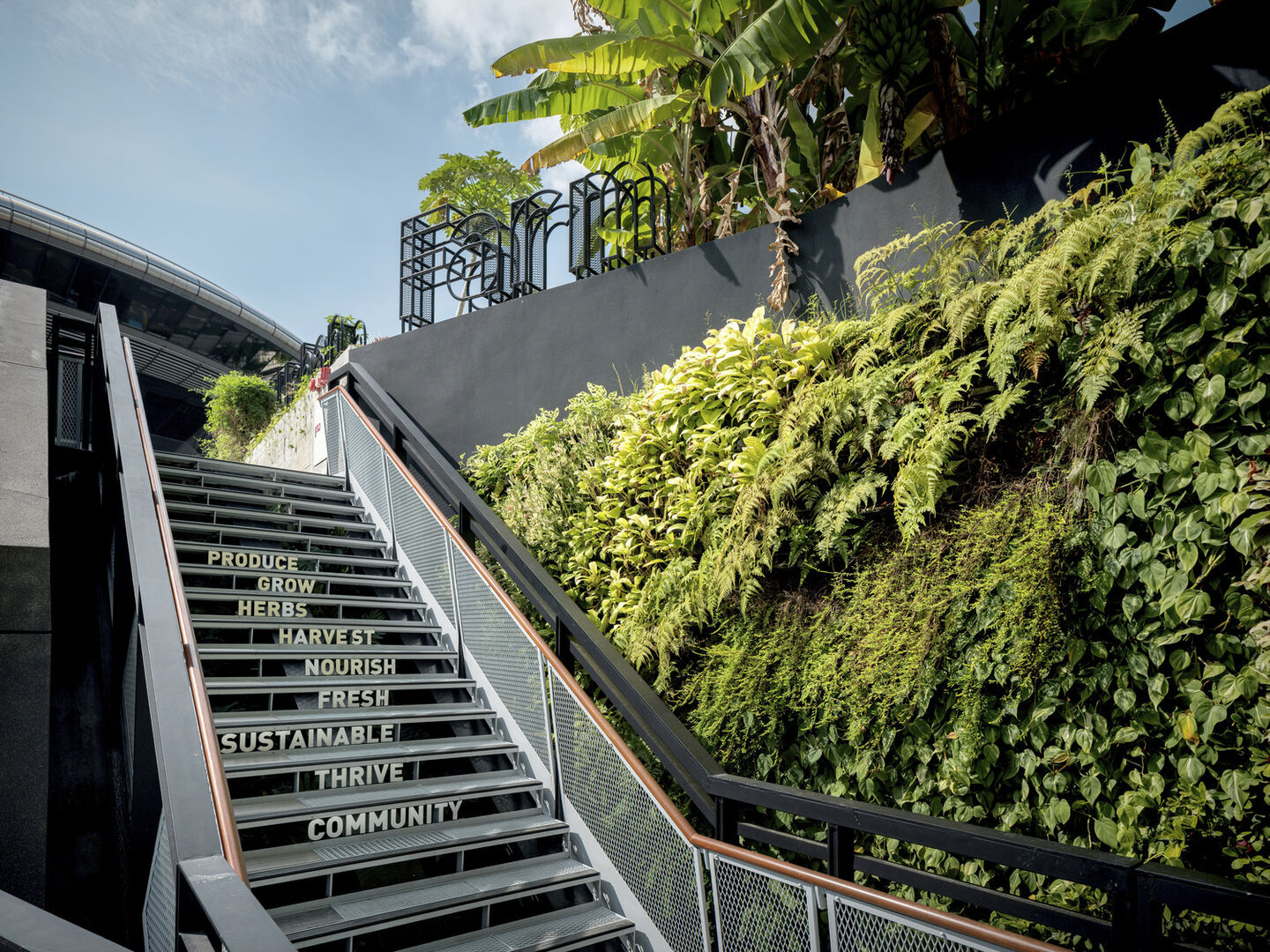 Food at the heart of community
Food production creates communities. It can be a way of life; community food production has the potential to bring wellness and a sense of wellbeing to urban communities - and there's also a strong argument to be made that food enthused with meaning and care tastes better too.
Singapore is leading the way with community farming; from Edible Garden City to NParks Allotment Gardens to the Habitat Collective campaign, there's been a sizeable resurgence in recent years for communities coming together, connecting to nature and embracing the grow-your-own movement.
Aligning consumers with food production and bringing back this way of life does more than just enhance communities: close connection with plants and greenery, and the exercise associated with tending to plants, brings with it a host of measurable health benefits. Combining urban farming with a heightened knowledge of healthy eating brings with it the potential to tackle some of the major health issues affecting our generation, such as diabetes and obesity.
Emphasising regional diversity
As more and more regions and areas become designated heritage regions for particular foods, Eco-Gastrotourism is another trend that is helping to reinforce the connection between local food production and culture, providing travellers with sustainable culinary experiences tied to regional identities.
As unique multicultural melting pots, urban areas are ideally placed to benefit from this growing tourism trend, with hotels, in particular, potentially having a unique role to play here: understanding where and how your food is grown and prepared can present a powerful guest offering, and connecting this to local community farms can benefit the surrounding community at large, providing the opportunity for meaningful cultural interactions between locals and visitors.
As interest continues to surge for urban farming, the overarching challenge - and opportunity - for landscape architects is to creatively weave and integrate these community spaces into future masterplans. As well as reducing the intense demand that's being placed on rural farms, the rise of urban farming, made possible by intentional landscape design, looks set to be an important small step forward in the battle to address biodiversity loss and preserve our planet.
About the author
Toby Kyle works as an Associate Director at Grant Associates in Singapore. Toby has gained over 15 years of experience working internationally, during which time he has developed a unique understanding of constructing in remote locations within different environmental, cultural and legal contexts. Engaging with different cultures has enhanced his ability to convey key concepts whilst having empathy with the different needs and viewpoints of others. His work at Grant Associates demonstrates that enhanced cultural and environmental experiences bring value to everyday life.

This article was originally published by WLA - World Landscape Architecture.