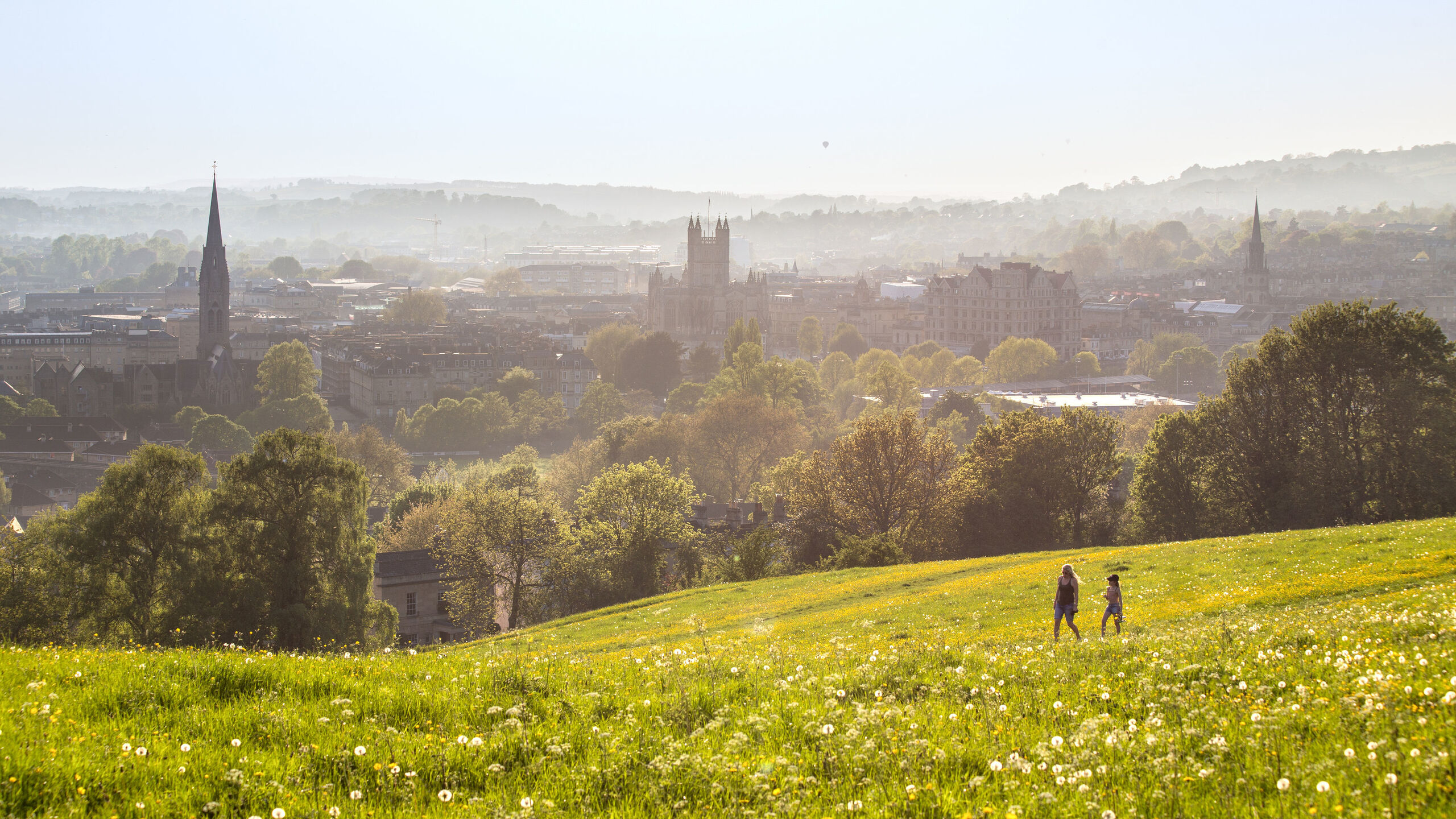 30th May 2023
Re-thinking the landscape and public realm of Bath
Bath is widely recognised as a beautiful city. Its World Heritage Site boundary embraces the core historic city and its landscape setting but, like many places, there are significant challenges to sustaining the integrity and authenticity of this environment into the future.
I firmly believe that it is more than possible to reimagine the future of Bath and to redefine its identity as a Landscape City. Bath Royal Literary and Scientific Institution recently invited me to deliver a talk on the landscape of Bath - in particular, to explore how we could better reflect the integration of landscape and architecture in this time of climate change and biodiversity crisis, whilst maintaining the essential qualities of the WHS OUV.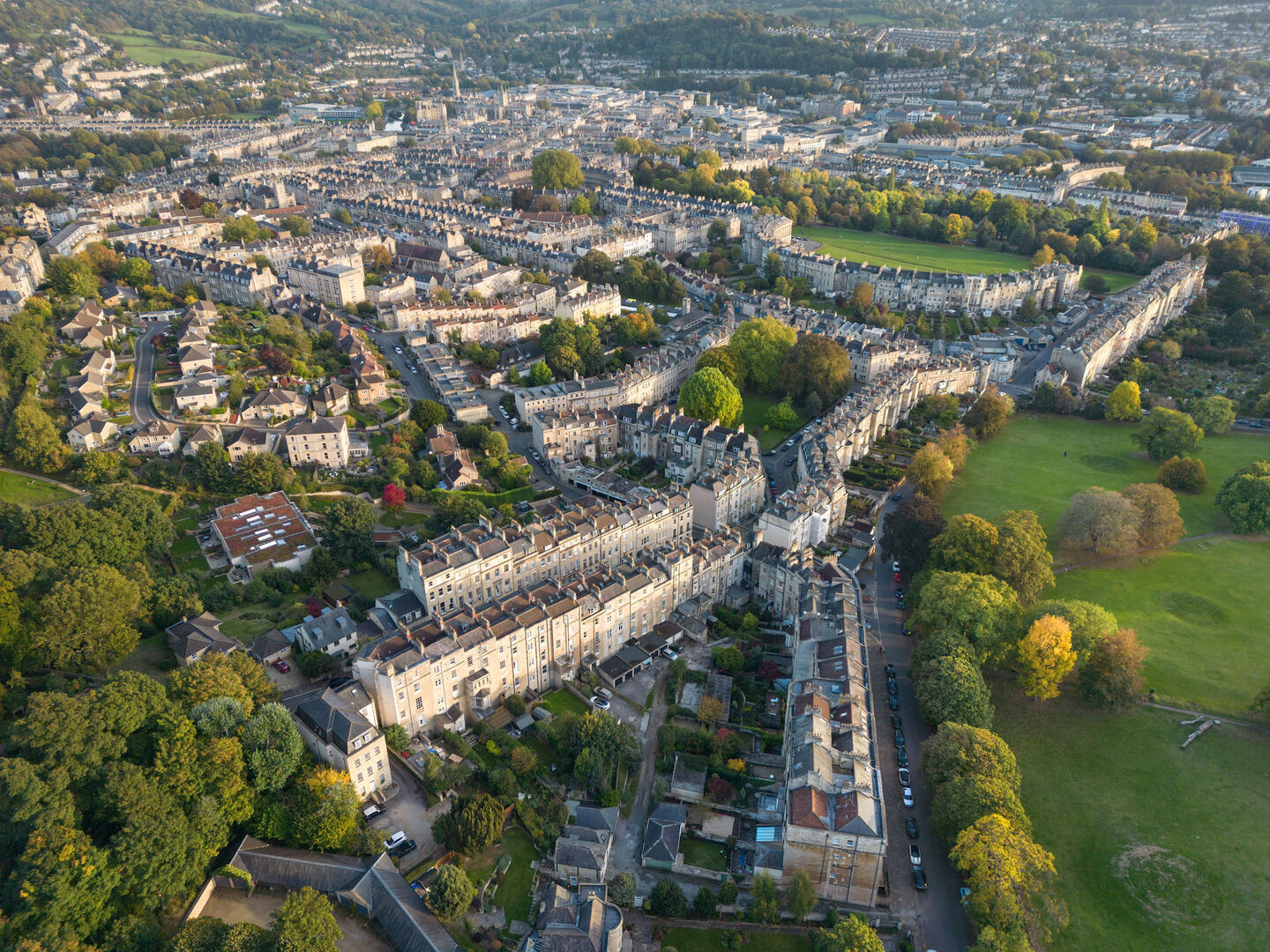 The City's Cultural Evolution
'Bath's grandiose Neo-classical Palladian crescents, terraces and squares spread out over the surrounding hills and set in its green valley, are a demonstration par excellence of the integration of architecture, urban design and landscape setting, and the deliberate creation of a beautiful city.'
From 1987 UNESCO Statement of Bath's Outstanding Universal Value.
As a local community we have a responsibility to not only conserve and protect the precious heritage and these Outstanding Universal Values but also to show how we are responding with creativity and imagination to the challenges of the day.
I believe that this current era in the cultural evolution of the city can, and will, be shaped by how we rediscover and regenerate the city's Landscape and Public Realm to become a climate and ecologically resilient framework for future city life and to sustain the qualities of the wider landscape setting that are so important to the WHS status.

Alongside consideration of the physical, cultural, and ecological fabric of the city environment, we also need to review the status and value of this landscape. What became abundantly clear during the Covid-19 pandemic was the role that landscape, green space, nature, and public realm all play in creating a better quality of life for people and the natural world - and how inadequate our existing systems are for creating, looking after and enhancing this key infrastructure.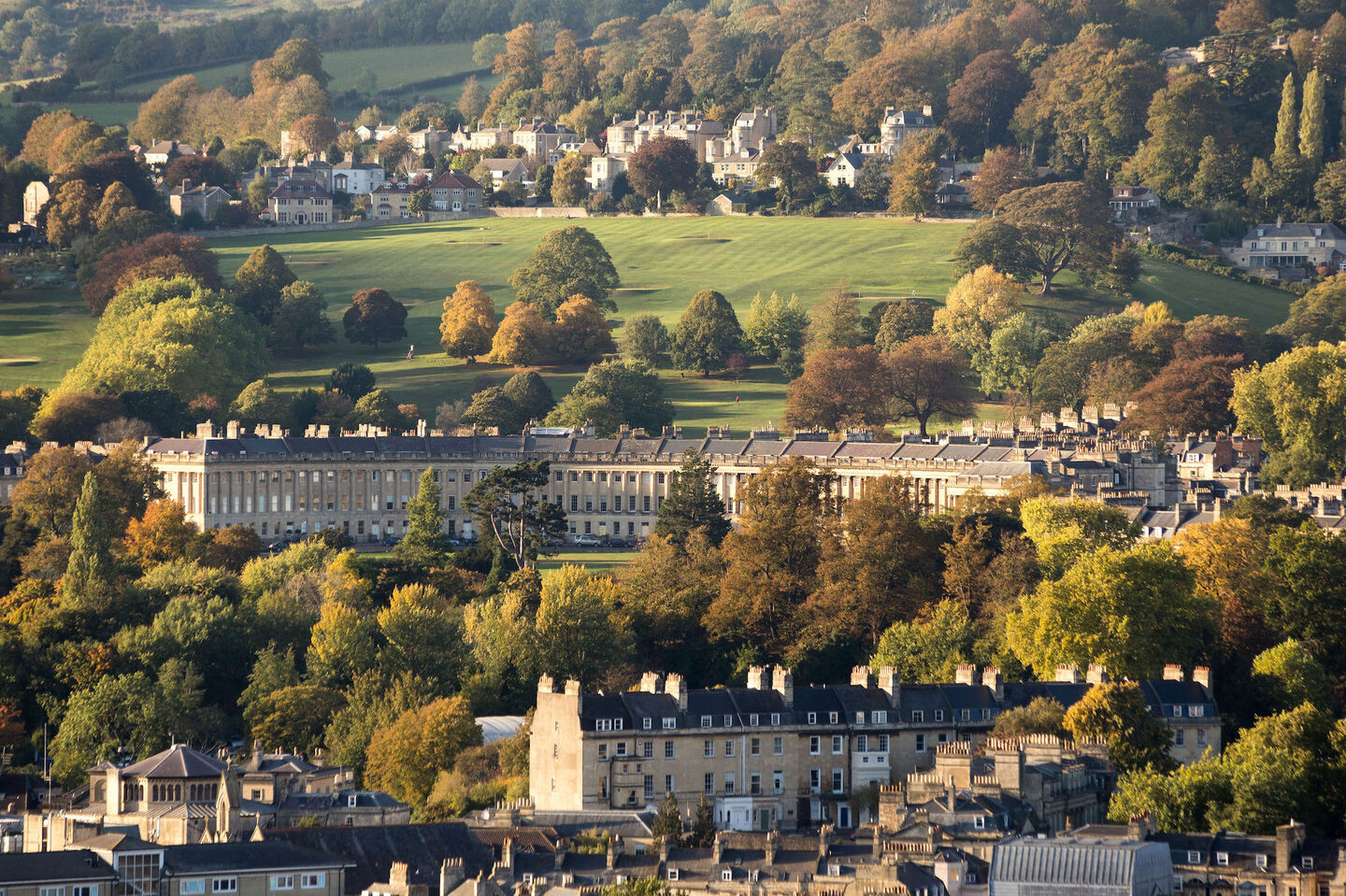 A new approach to city planning, design and management is needed which will require a restructuring of how nature, landscape and public realm are prioritised and managed within the city. Can we imagine a people and nature based planning and design approach rather than an approach dominated by transport and built development?
Bath as a Landscape City
"Inspired by its hot springs and the natural landscape setting, the story of Bath extends over six millennia from its earliest days when the hot springs were a place of worship for the Britons to the contemporary city which is an international icon of heritage and thriving Community".
UNESCO WHS 1987
If a Landscape City is one that has evolved through time as a synergy between the landscape, development patterns and the values and needs of the inhabitants, then can Bath be imagined as the definitive Landscape City?
Here is a place built around the natural hot springs, derived from rain that fell onto the surrounding hills over 10,000 years ago. A place defined by its geology, topography and ecology creating a physical and living natural setting for the city that has a long history of being famous and well before the universally acclaimed Georgian Bath with its expression of built forms following the landscape.
The balance of landscape and buildings, sense of tranquillity, gentle colours, curves, softness, sense of history and human connection with the natural foundations of the place make it one of the most amazing cities on the planet, a jewel of Britain, full of ingenuity and creative ambitions for the future.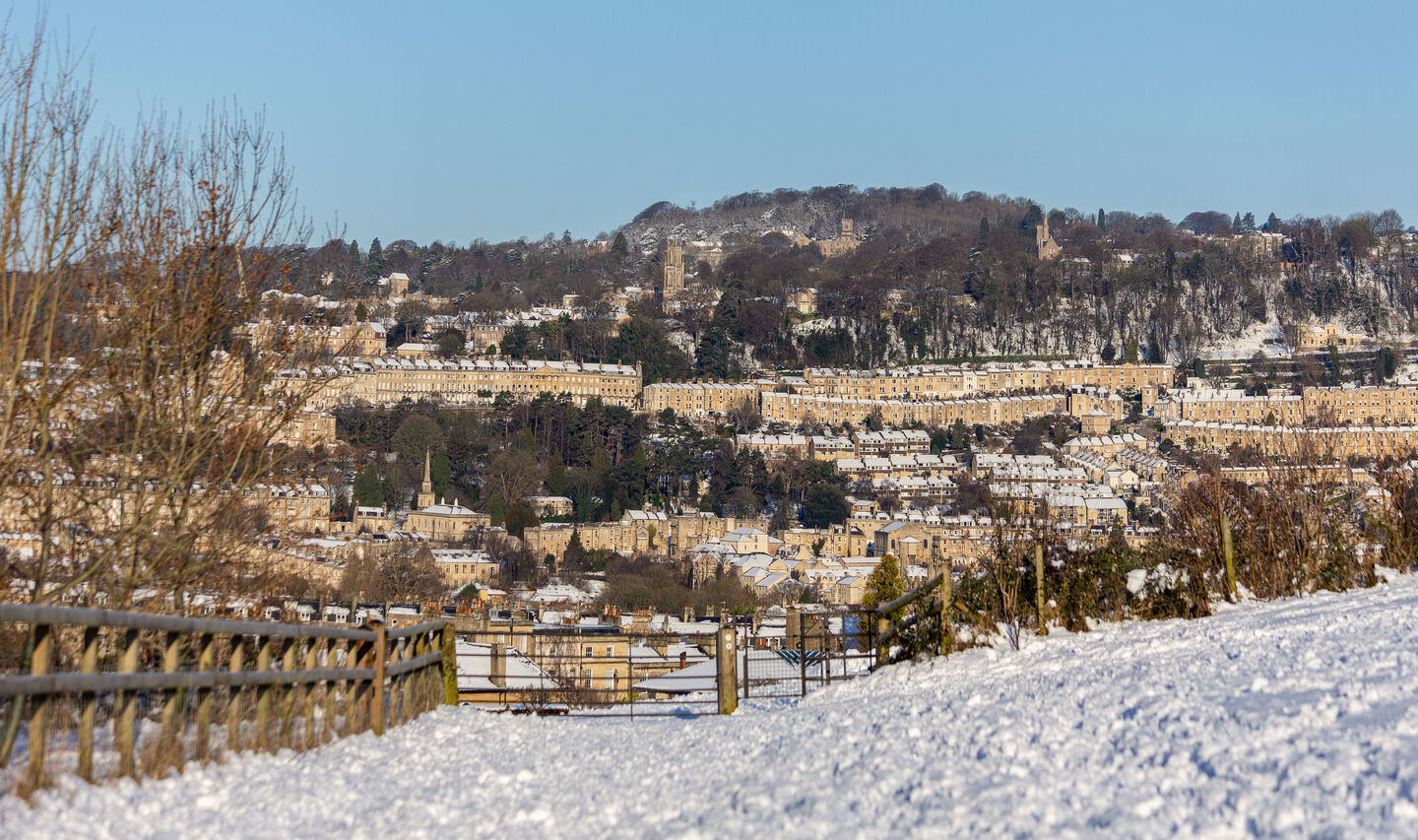 As a Landscape City, Bath is a compact, characterful city sitting comfortably within a flowing green valley with a river running through it. Built extensively from the local stone, the architecture and landscape are physically and visually integrated; these are the timeless qualities that have defined Bath for centuries.
We must not forget how special this city is and how important it is to the world as an evolving record of human culture. The whole city is designated as World Heritage Site based around Outstanding Universal Values that explicitly depict the unique fusion of landscape and city making.
Redefining the public realm of Bath
Two things valued by everyone during the lockdowns of 2020 and 2021 were the more relaxed use of public space, free of vehicles and pollution, and greater access to parks and open spaces bringing reconnection to nature. Bath has an abundance of both but fails to make the best of them.
By 2030 I believe we should redefine the public realm and open green space of Bath to deliver an enhanced quality of life for residents, visitors, and workers alongside the reconnection of biodiverse, varied and beautiful habitats linking through the city to the countryside and beyond.
To achieve this, we need to invert the way we see and value the city and landscape. Rather than buildings with a landscape backdrop we should begin to plan, design and manage the city as a landscape ecosystem that incorporates buildings into its topography and character. This will reset our way of thinking and would provide a radical platform from which to deliver the essential Climate and Ecological adaptation and mitigation strategies.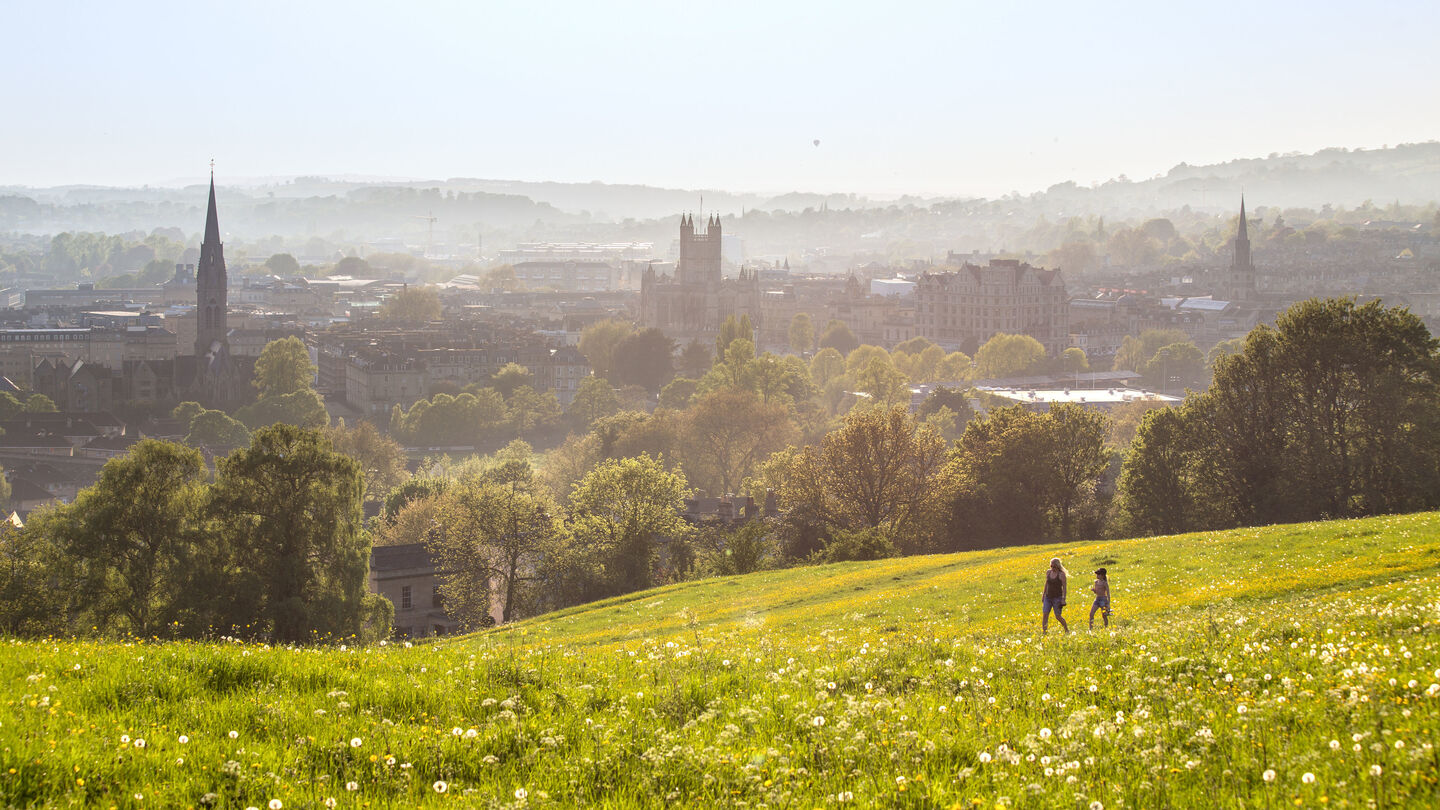 The perceived meaning of landscape and public realm must shift. Rather than be seen as just a scenic or aesthetic part of the city with some ecological value, we should think of it as part of our life support system. It helps deliver our food, water, oxygen/air, and provides spatial and ecological experiences that enrich our life, our health and mental wellbeing. It has the potential to inspire and is fundamental to delivering an equitable quality of life for all.
Global Icon, Local Home
The ambience, charm and abiding quality of Bath is founded on its landscape setting, enhanced beautifully by the sympathetic urban planning, colours, details and profiles of the urban form. Importantly though, Bath is a predominantly 'green' city and one immersed and surrounded by a cloak of nature enhanced by the lifeblood of the River Avon and the hot springs running through it.
This clarity of identity and landscape character of Bath is one of its greatest assets and, as the world becomes more generic in its forms of development and more formulaic in its leisure, then the value of Bath as a timeless 'valley of pleasure' will only become more valuable to the global tourist, more unique in its offer to the world and more precious to those lucky to live and work here. However, as with many existing cities with charm and character derived from earlier periods, there is much work to do to update Bath as a contemporary liveable, creative, accessible, enjoyable, inspirational, child friendly, age friendly, biodiverse and welcoming city.
Thankfully there is evidence that the Bath community is rising to this challenge and new partnerships and relationships are being forged across the city to help create, manage and maintain our precious landscape asset. Is it possible to imagine the establishment of a new Bath Landscape Partnership that creates a structure for reimagining the public realm of the city with bold transformations of city spaces, numerous community-led landscapes, landscapes for play and exercise, new food growing projects in and beyond the city and initiatives for rewilding parts of the wider setting?
If we can deliver such a series of transformational projects to define this new environment, then Bath in 2030 will be a true Landscape City setting an example to the world.
Images used with the permission of photographer Casper Farrell (@brilliantbath).