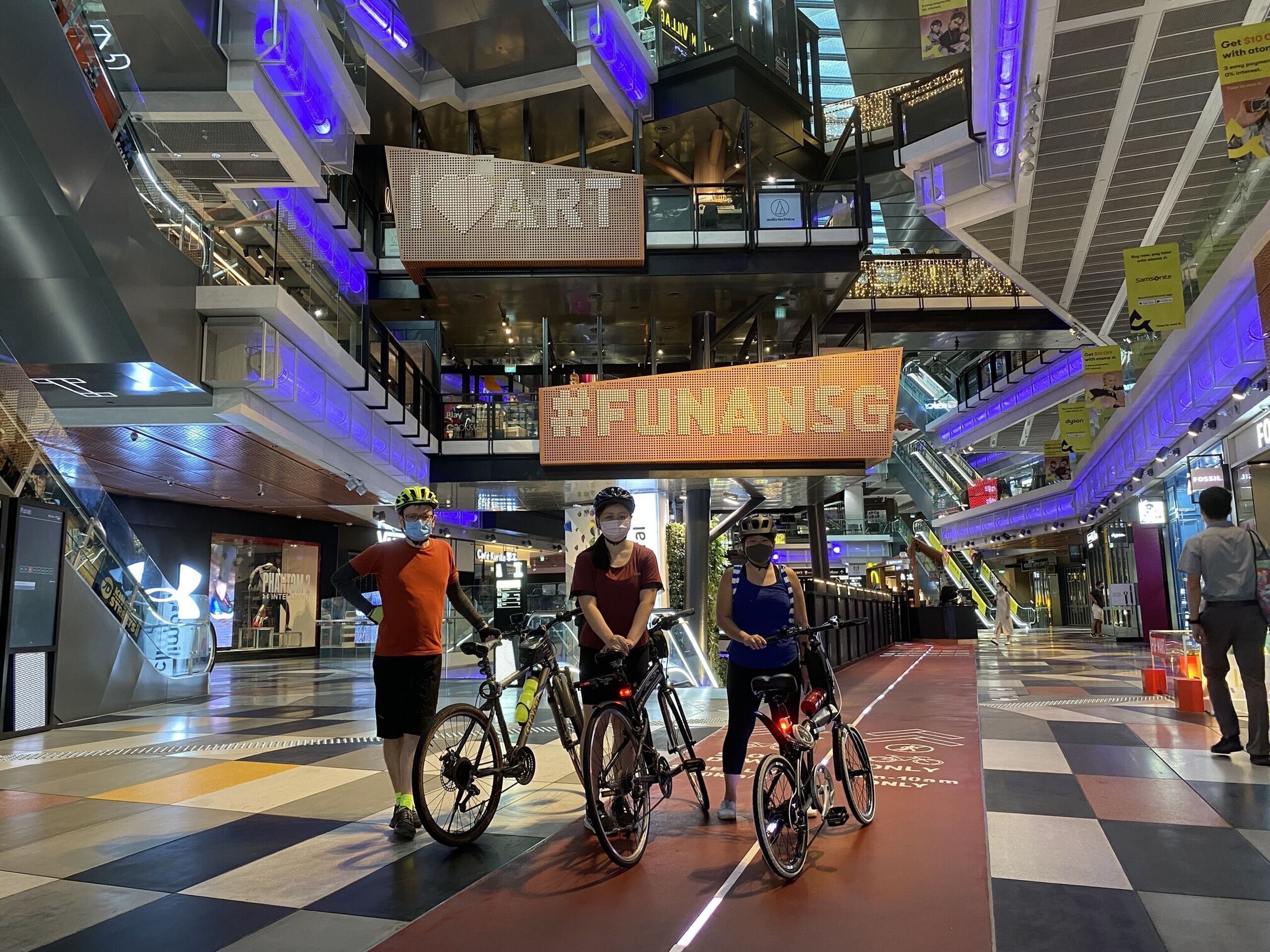 21st Dec 2021
Cycle-friendly Singapore: exploring future transport infrastructure possibilities
The pandemic, despite the many challenges it has presented, has given our society the exciting opportunity to re-imagine how we move around in our daily lives and to envisage what the transport infrastructure of the future and 'walkable cities' could look like.
Considering the rich possibilities for infrastructure will see many countries globally look to combine the demand for increasing mobility with protecting the needs of our natural world - only by giving equal priority to both of these areas can we stand a chance of tackling the Climate and Biodiversity Emergency.
When it comes to making cities more liveable, we don't just talk the talk, we also walk the walk: this commitment lies at the very heart of our design approach at Grant Associates.
Throughout December, we've been exploring Singapore on two wheels as a team, travelling to 22 of our projects around the island by bicycle. It's been a celebration of our achievements as a practice and an opportunity to look towards 2022 and the future.
Ride one and ride two saw us venture outside of Singapore's city centre. For our third and last stage, we focused on just one project in the city centre, which also allowed some walkers and runners to join in with us too.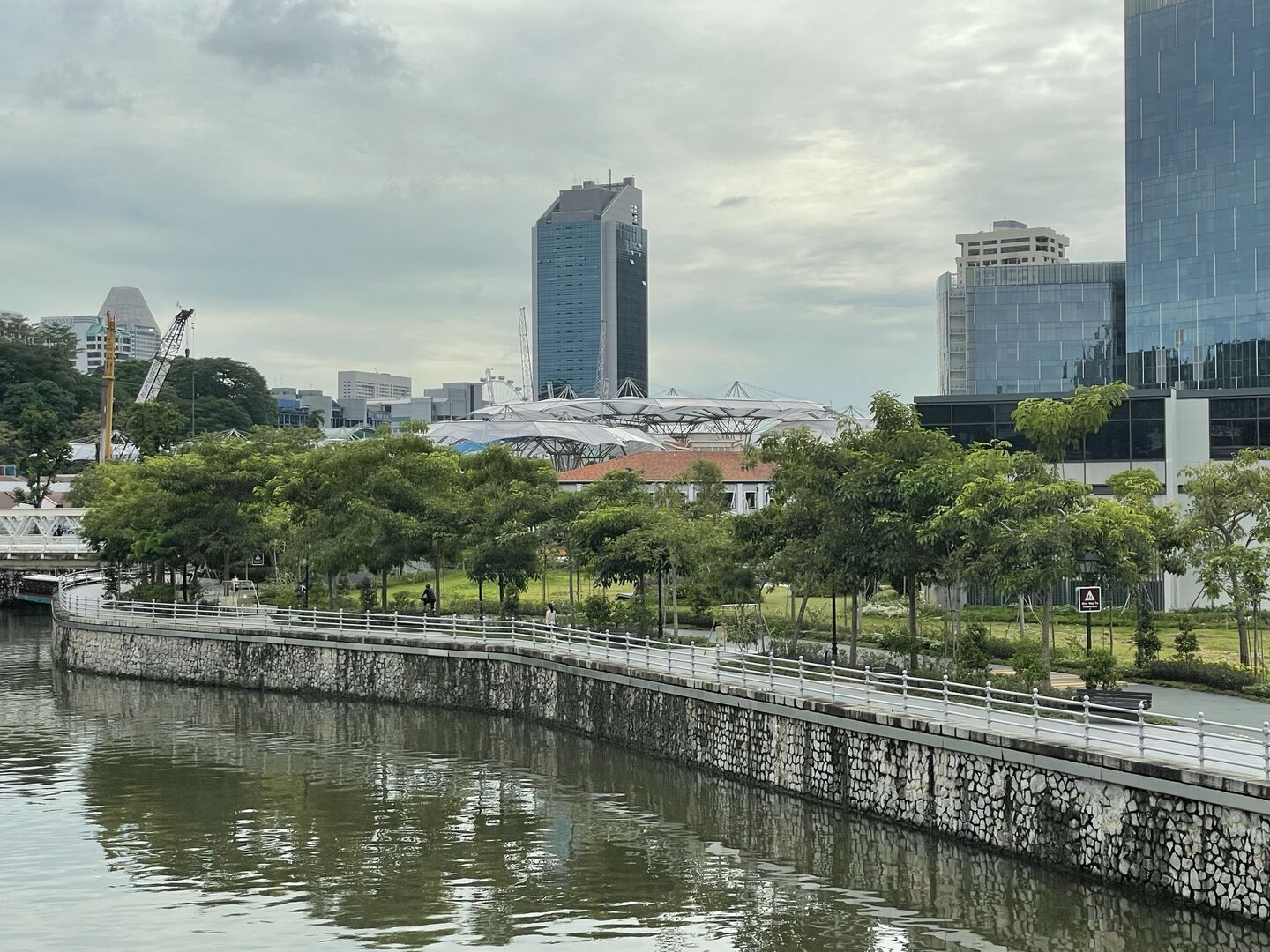 While the largest architectural project that our team in Singapore is currently working on as a practice is an urban Elevated Walkway in China, in Singapore itself, we have just completed the new Cycle Route alongside the Singapore River. This work has been delivered for our client The National Parks Board (NParks), in close collaboration with other government agencies.
The Singapore River Cycle Route is the strategic stretch of the Round Island Route, crossing the civic and commercial city centre. Grant Associates designed the route, pre-pandemic, in close collaboration with Kay Ngee Tan Architects. I was actively involved in the project during the planning stage, after which I handed it over to Senior Associate, Libby Tandian.
Working within an existing dense urban fabric and finding space for cyclists was a major challenge to overcome. We sought to balance the demands and desires of all user groups in this central urban corridor, while preserving the green and historic character of the river banks.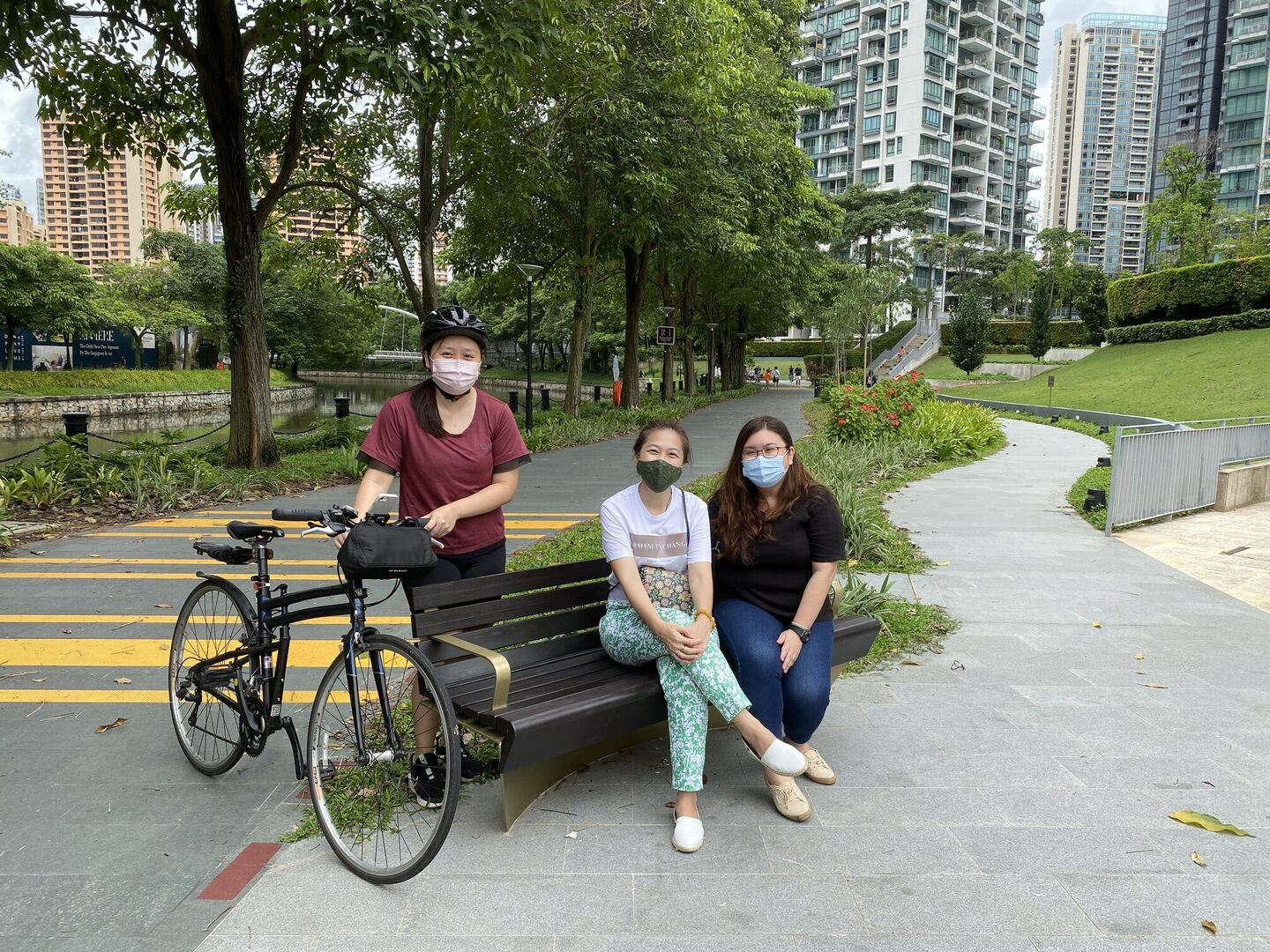 In some places, our intervention had to be minimal as space was very limited, while in other places where we had more width to play with, we created break out spaces alongside the route for people to rest and meet up with one another. Majestic Tabebuia trees line long stretches of the route, providing ample shade and, when they flower, the sight of the pink Tabebuias is truly wonderful. As much as possible, we kept the existing healthy trees and if required we adjusted the new hardscape alignment to respond to the existing root balls discovered on site. We saved quite a few trees that way.
On Sunday 19th December at 9am, we all meet at North Boat Quay, the perfect starting point for any walking or cycling trip in the city centre. I finally meet Yun Ru and Wei Ling, new recruits who joined our practice during the pandemic. As a result of working and interviewing from home, I have never had the chance to meet them face to face before now.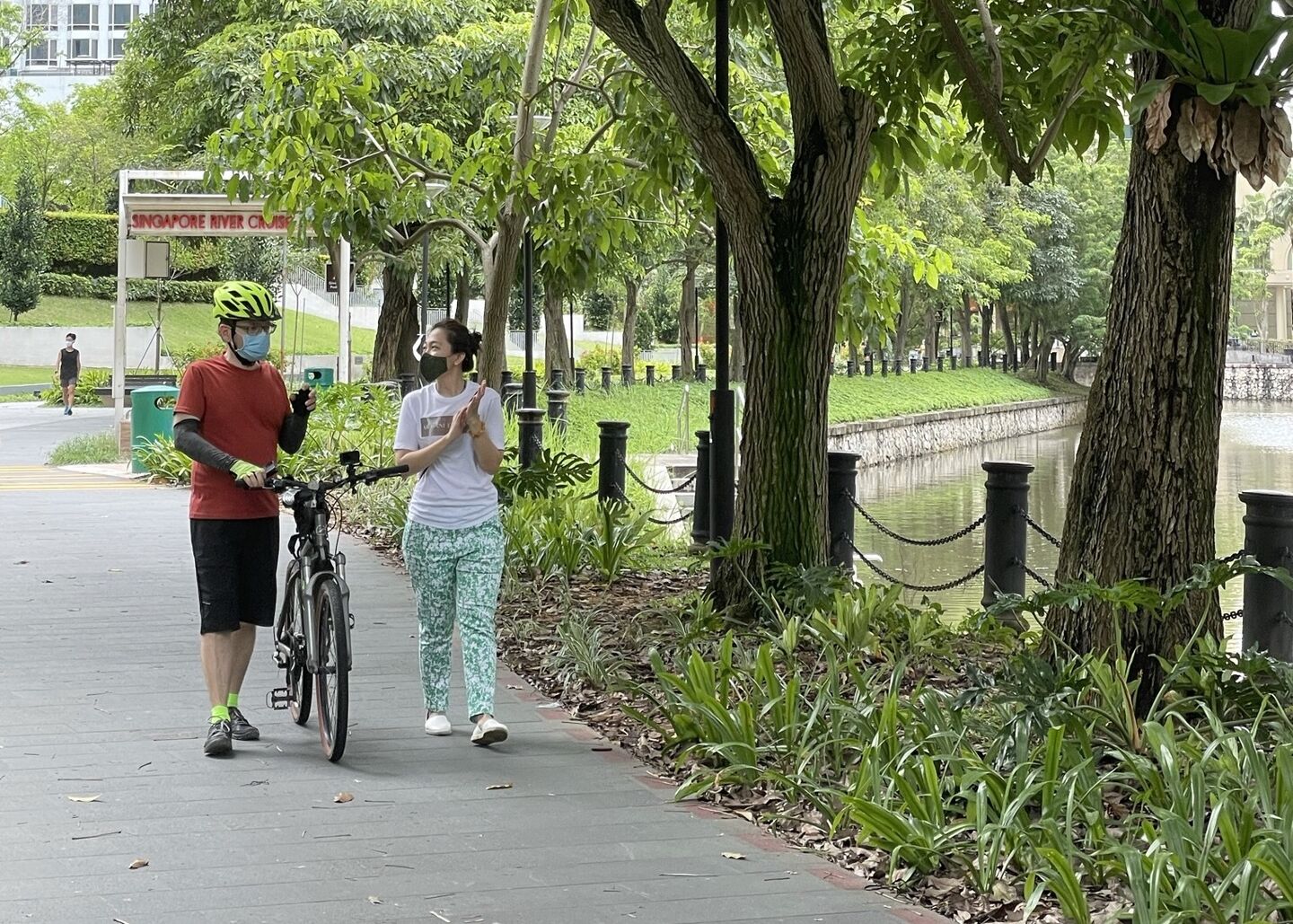 At North Boat Quay multiple cycle lanes from tunnels and bridges converge. Our design approach here created a comfortable and safe gathering space by separating the through lanes from the dwelling space with lush planters. While the walkers go west, the cyclist and the sole runner head north to the nearby Capitol and Funan.
In Funan, the most cycle-friendly retail mall in South East Asia, we can actually bring our bicycles inside. The route through Funan is short, but it demonstrates the variety of cycling experiences we can create and how we can innovatively integrate bicycles into an exciting urban environment.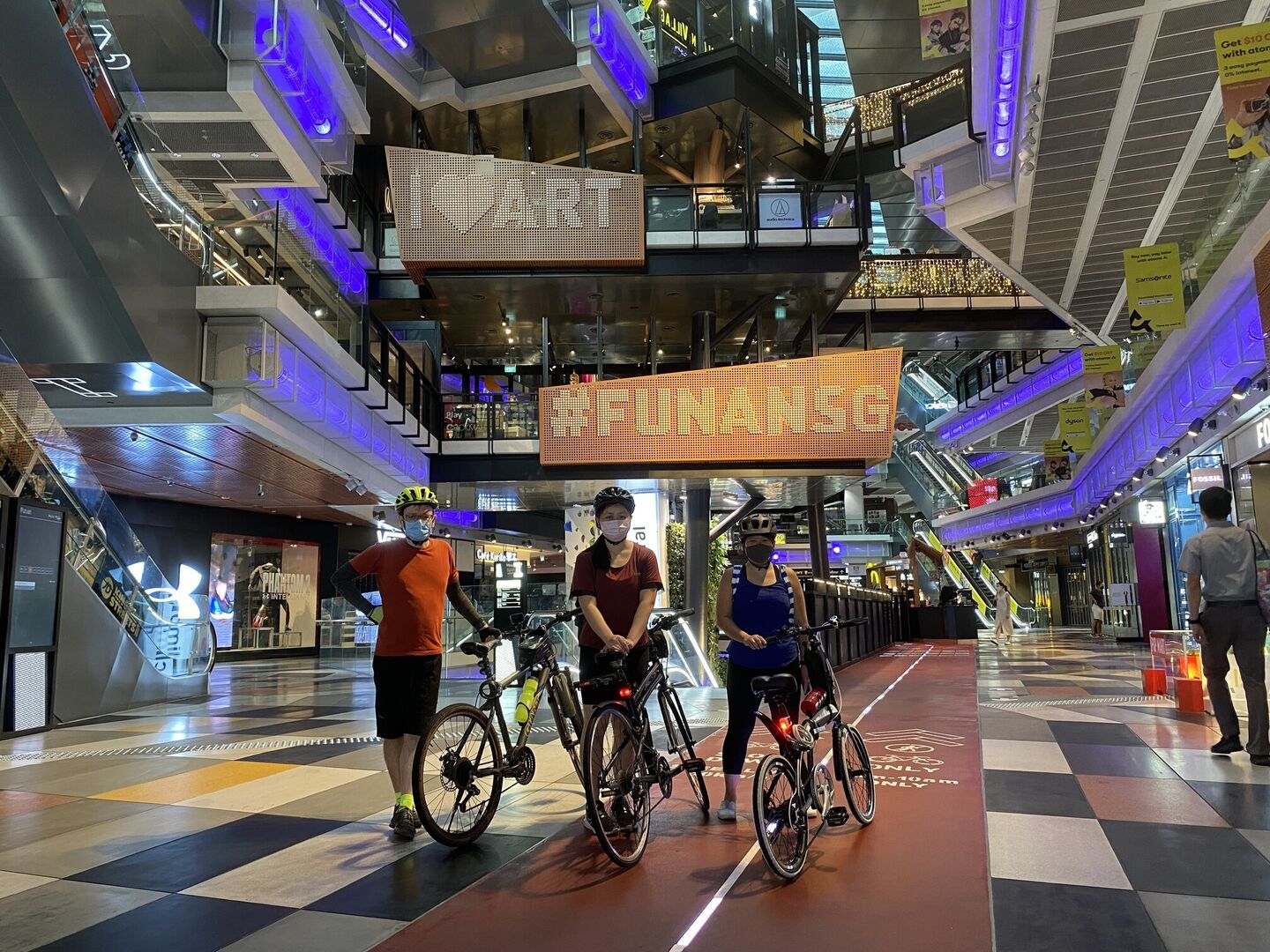 After Funan, we head back to North Boat Quay and start our journey alongside the Singapore River; Pascal, the lone runner, admirably keeps up with us cyclists. We have a short break near Ord Bridge, testing out the rustic garden swings surrounded by new lush planting. We cross the river and catch up with the walkers at one of the many cafés alongside the route. We probably spend as much time sitting down at the tables sipping our drinks as on our bicycles, but we deserve a lazy Sunday after an extremely busy year and more tiring cycle rides the earlier weekends.
After a long break, it is only a short stroll to the end of our project: time to say goodbye and wish each other well for the New Year.
I wish to thank all participants over the last weeks. The walkers who joined us on this final leg were Libby Tandian, Jade Goh, Chinta Gonarsyah, Koh Wei Ling and Tan Yun Ru. Pascal Tan was the legendary sole runner who accompanied the cyclists Agnes Soh and Ip Wan Hei. Special mention and thanks go to Wan Hei, who joined me for all the trips from start to finish; we had never had the chance to meet in person until ride one!
The cycle rides have inspired me and given me new energy to continue our innovative work as a practice to tackle the climate and biodiversity crisis and to create spaces for the enjoyment of all.
—
Lively minds making a liveable world…
Our continued success at Grant Associates is due to the talent and commitment of our multi-skilled team.
The practice currently employs over 70 people, from over 17 countries, across our two design studios in Bath and Singapore. The majority are qualified landscape architects, working together with architects, 3D modellers, BIM and visualisation specialists, horticulturists, designers, IT and other technicians.
We are always interested to hear from talented and enthusiastic people who would like to join our dynamic teams in both offices. Take a look at our latest vacancies and get in touch.