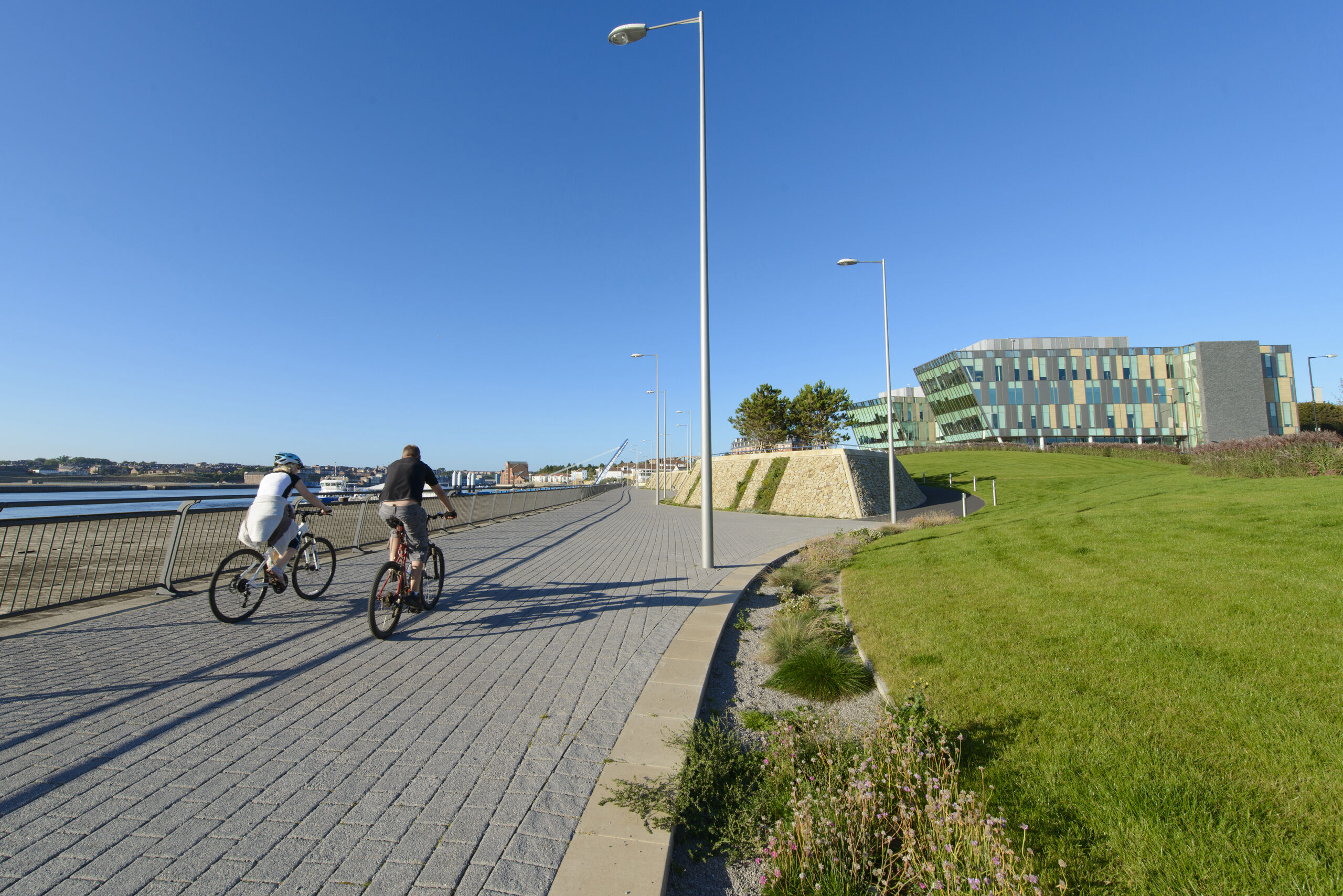 Harton Quays Park
South Shields, UK
We won the competition set by South Tyneside Council to design and implement Harton Quays Park in Southshields near Newcastle, as part of the first phase of the Riverside Regeneration Strategy. The park opened in 2013 and provides a new cultural focus and events facility for the town, whilst enhancing the biodiversity of the area and providing additional amenity to the local community.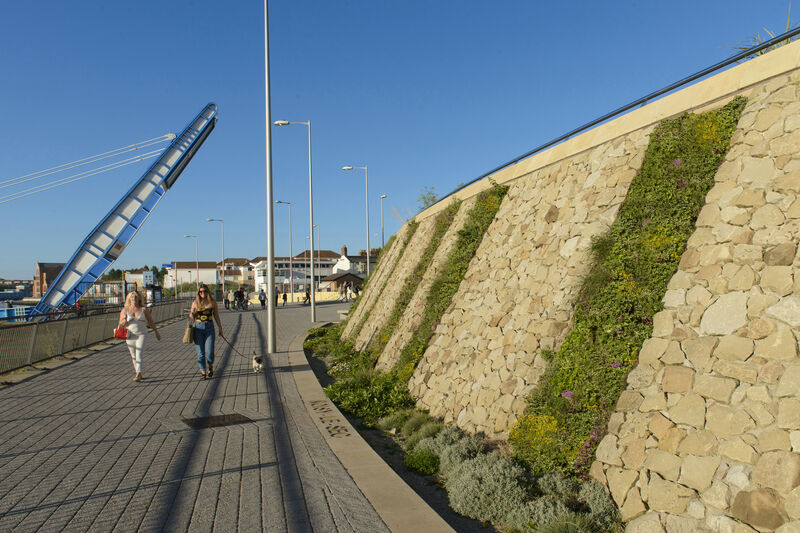 Photography by Simon Kirwan
The park design is defined by an interlocking sculpted landform called the Ribbon, which is designed to absorb the existing site topography, increase visual connectivity and promote the links between the town and riverside. The Ribbon is formed by precast concrete panels fixed over an earth retaining wall. Interspersed along the panels are sections of sedum planting to form a barcode of colour, frame seating areas and enhance ecology. Along the riverside, the Ribbon Wall forms an outcrop that wraps around a grove of pine trees to provide an observation point over the river estuary and a landmark for passing international ferries.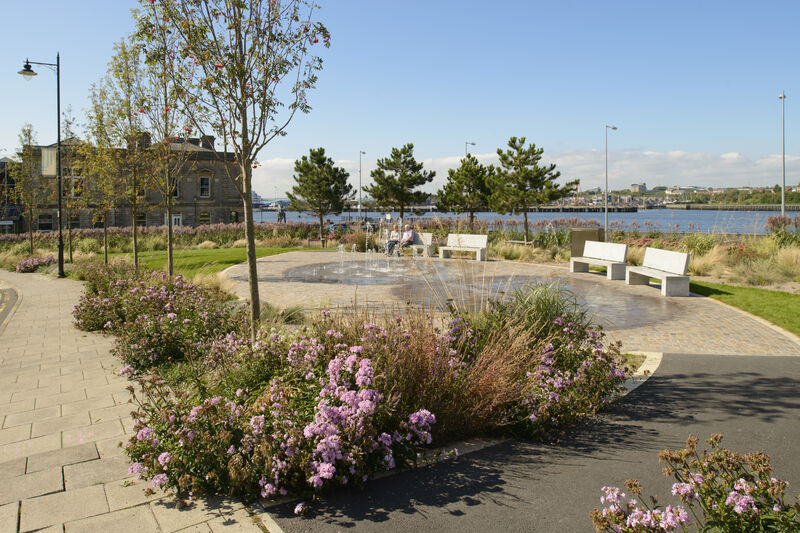 Photography by Simon Kirwan
Behind the Ribbon, two sinuous lawns tilt east and west, forming a delicate valley through the park. The valley aims to optimise the local micro-climate by creating sheltered regions of the park and capturing the best of the sunshine. The lawns also frame key views over the estuary and through the park, along with providing spectator areas for the 3 community events spaces.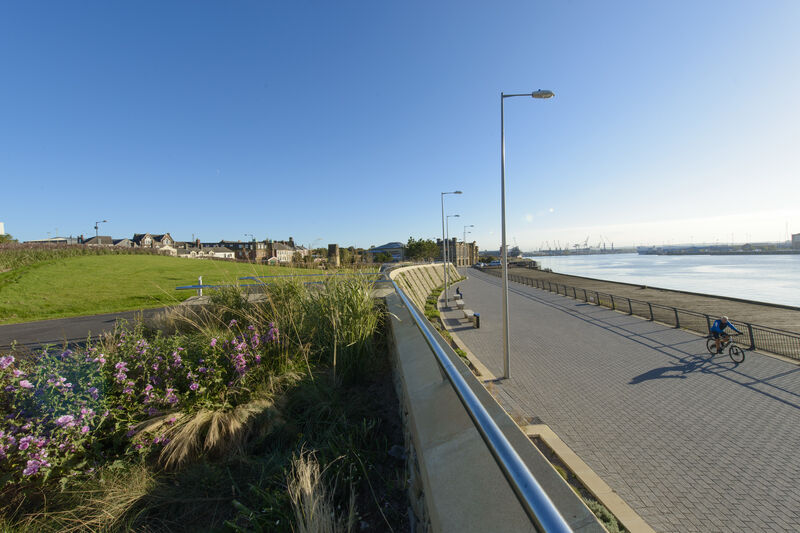 Photography by Simon Kirwan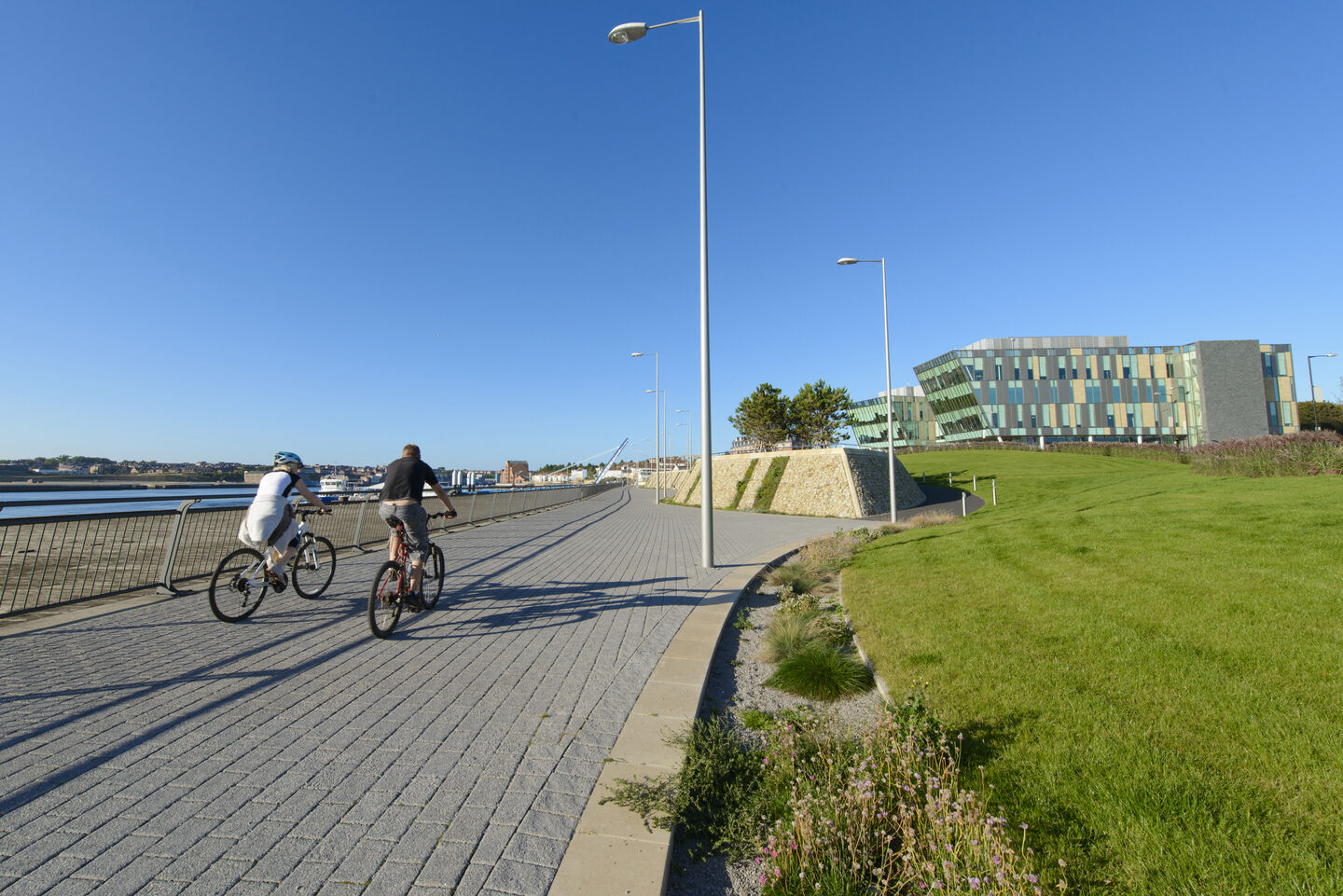 Photography by Simon Kirwan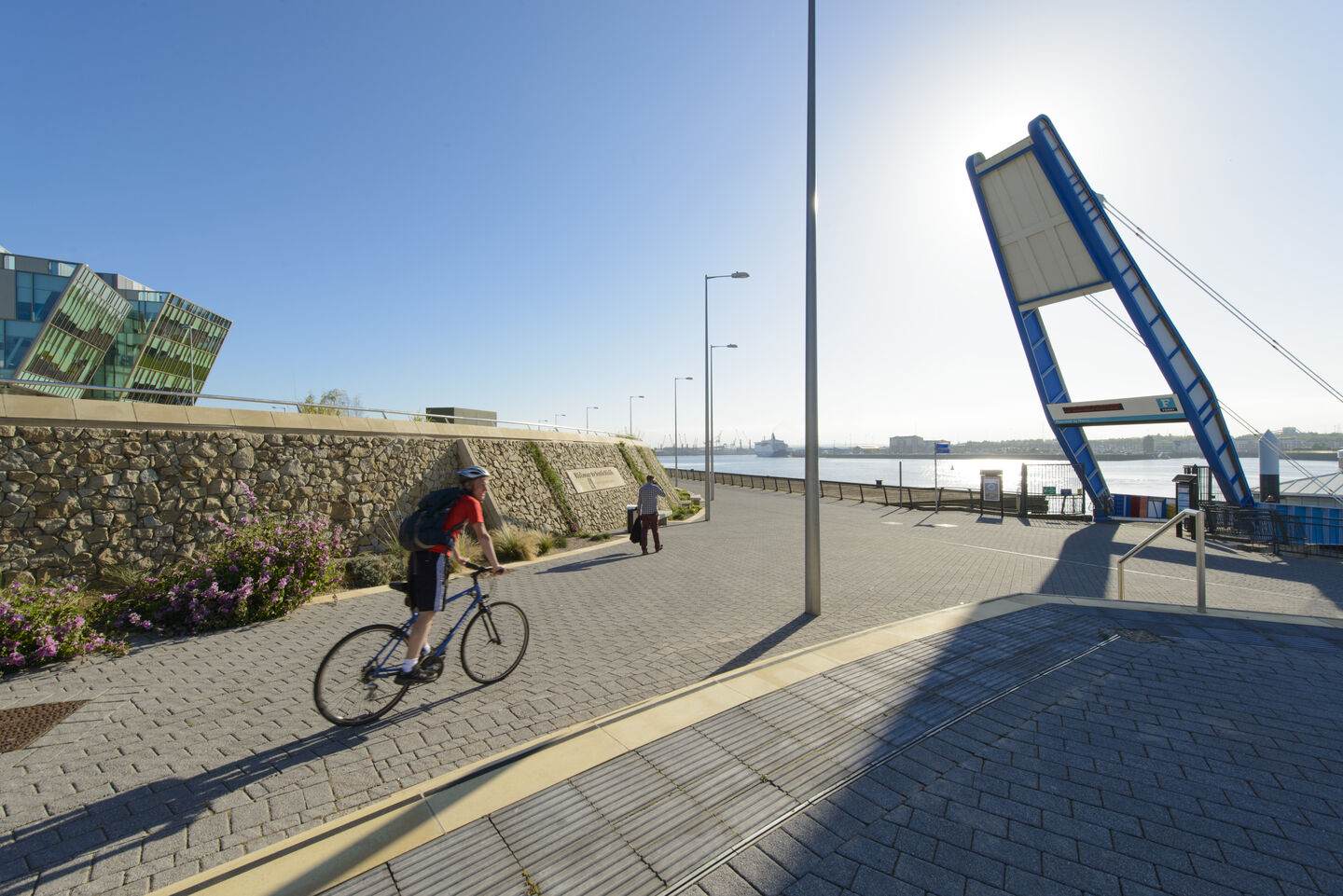 Photography by Simon Kirwan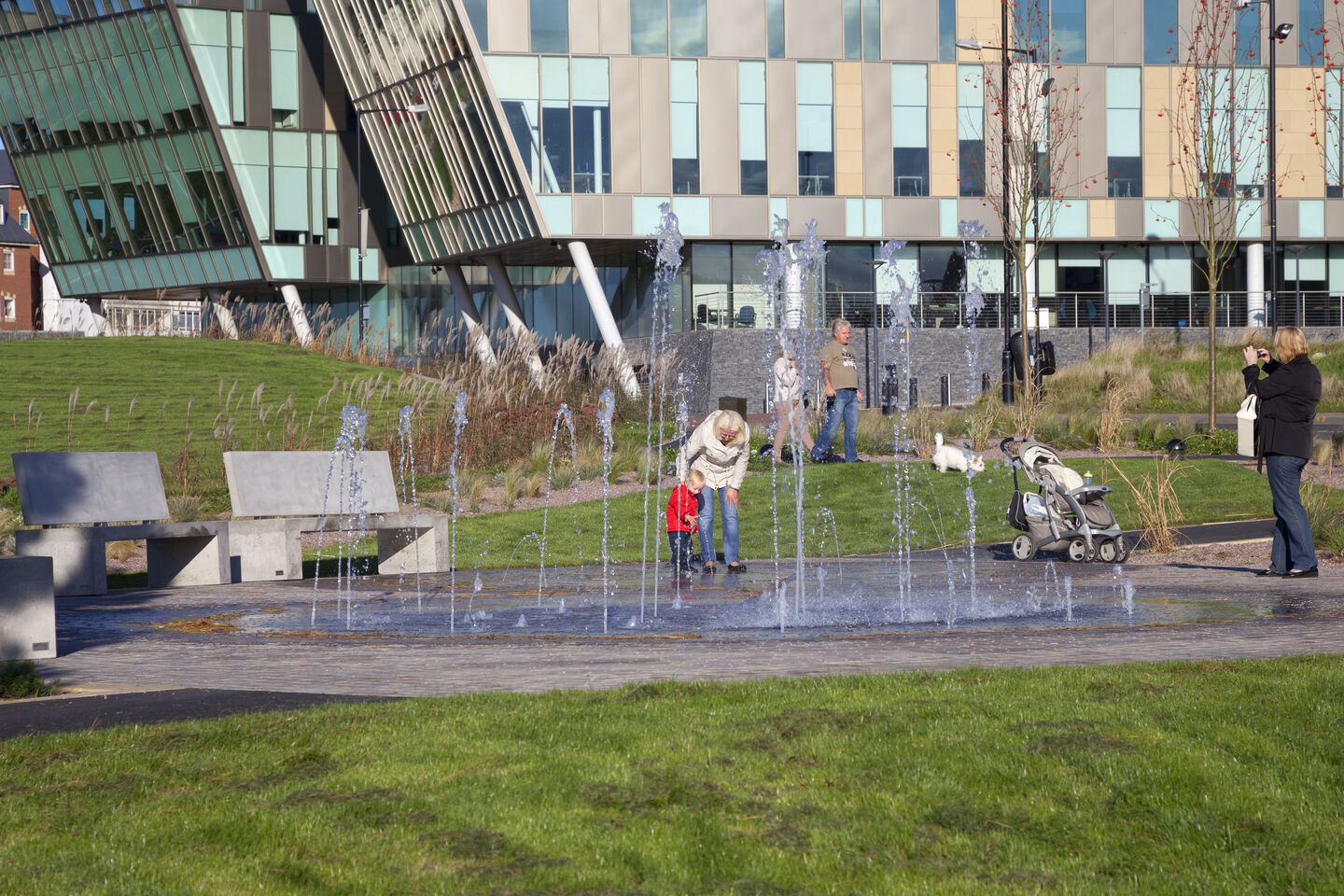 Photography by Steve Mayes
Awards
The Institution of Civil Engineers (ICE)- Robert Stephenson Award

Special Commendation

CEEQUAL -Client and Design Award

Very Good
Project Info
Client:

South Tyneside Council

Engineer:

Mott Macdonald

Quantity Surveyor:

Turner Townsend