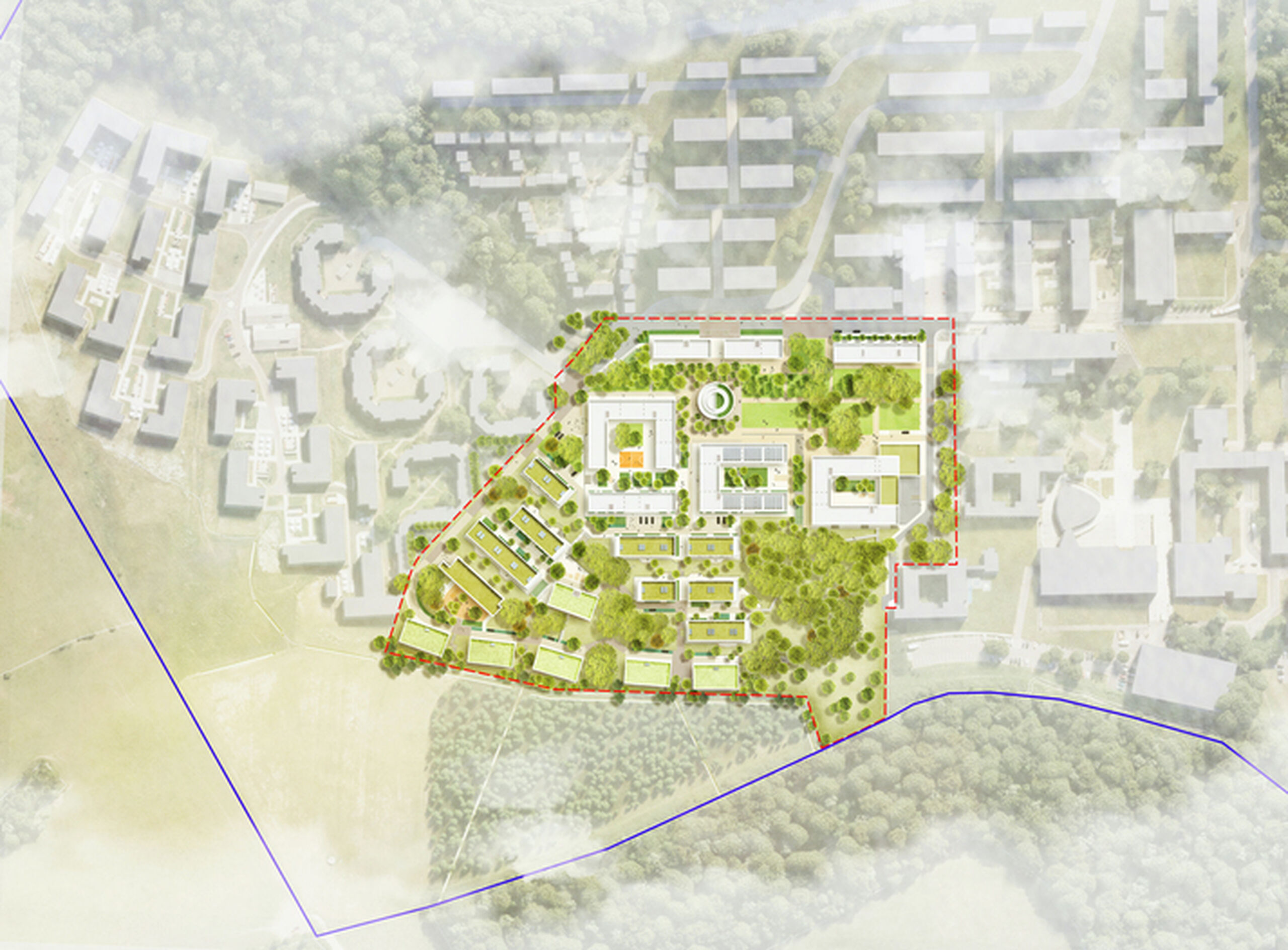 5th Jun 2020
Unanimous approval for 1,899 student rooms at the University of Sussex
Brighton and Hove City Council unanimously approved designs by Feilden Clegg Bradley Studios with a landscape strategy by Grant Associates to create 1,899 student rooms at the University of Sussex Falmer Campus.
The West Slope development for the University of Sussex is part of the continuing evolution of the campus to improve the University's facilities, to ensure the best possible student experience and continue the legacy of Sir Basil Spence.
Sir Basil Spence worked collaboratively with landscape architect Dame Sylvia Crow on the original campus, which focussed on capturing the natural landscape of the South Downs chalk valley. The landscape of the campus was described by Spence as growing "out of the soil of Sussex to become a natural part of this beautiful site."
The University of Sussex campus sits within a valley of the South Downs National Park and is bound on all sides by a variety of nature conservation sites and areas of ancient woodland. The landscape design proposals are an essential ingredient of the vision for the redevelopment of the West Slope for the University; to create a sense of place and a memorable setting for students to live and study, which connects people and nature and promotes a healthy university community.
The new spaces in the valley and on the slopes are arranged in response to new student life against the backdrop of the South Downs National Park. The designs have been developed and positioned to minimise excavation, retain as many trees as possible and respond to the contours of the site.
The project targets BREEAM Excellent and incorporates a range of environmental enhancement measures including a mix of intensive and extensive green roofs, integrated SuDs and grey water recycling, biodiversity enhancement, natural ventilation, photovoltaics as well as on-site composting.
Working closely with Feilden Clegg Bradley Studios, Grant Associates delivered the landscape and urban realm design for the West Slope Residences from masterplan, concept and through to the detailed planning application proposals.
The West Slope proposals were granted planning approval by a unanimous committee in May 2020. It is scheduled to be delivered in phases by Balfour Beatty over a four-year period once site preparation works have begun.