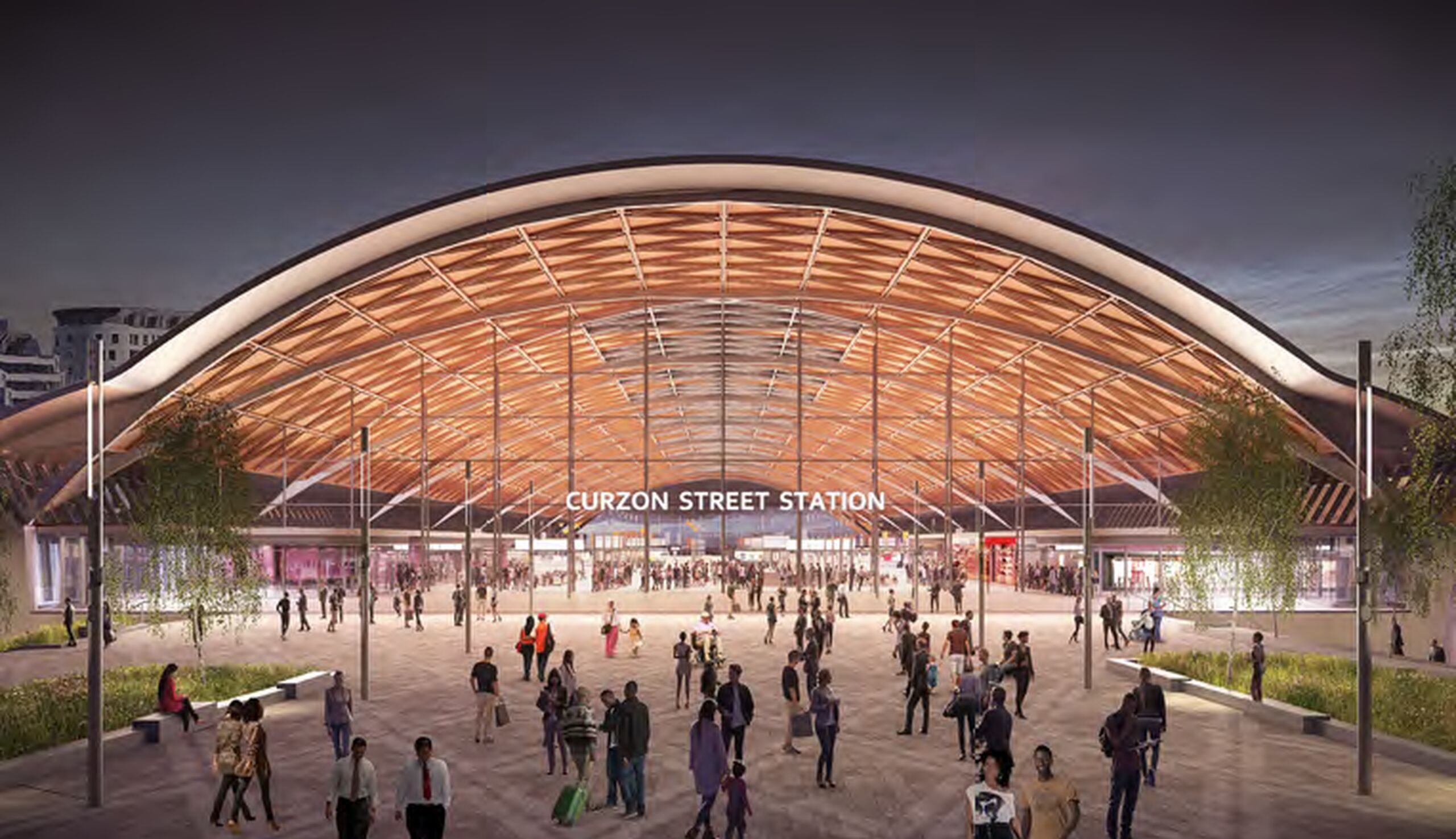 5th May 2020
Greenlight for HS2 Curzon Street
Birmingham City Council has given the greenlight for HS2 Curzon Street station, with three planning applications for the new station and its surrounding landscape being approved.
Designed by WSP and Grimshaw and with a landscape and urban realm strategy by Grant Associates, HS2 Curzon Street will be the first brand new intercity terminus station built in Britain since the 19th century.
This key project milestone represents 24 months of close collaboration with HS2, the city of Birmingham and other key stakeholders. Curzon Street station will form an integral part of a major new transport interchange, bringing together HS2, Moor Street Station, West Midlands Metro tram and new bus facilities.
Landscape and urban realm design approach
HS2 has a design vision based around the principles of designing for People, Place and Time and a set of key design ambitions held jointly with its key local stakeholders. This was the starting point for the design of the urban realm at HS2 Curzon Street and includes four key areas as detailed below:
Station Square is the most significant new public space, located in front of the station it gives a sense of arrival into Birmingham. Visible to rail passengers arriving at the city, it provides a spacious and green, welcoming area to people and provides easy links into the city centre and Digbeth.
Curzon Promenade provides views of Philip Hardwick's Grade I Listed 1838 Curzon Street Station and complements the setting of Eastside City Park. It provides an active and interesting space to be in as well as linking to other travel amenities.
Curzon Square reflects the historic setting and buildings and links well to Digbeth, offering space for outdoor public events.
Curzon Street provides a flexible lawn space, providing an extension of Eastside City Park and links into wider plans for the future development of the area.
Each of these public spaces will incorporate cycle lanes and cycle parks - for more than 550 bicycles in total - as well as clear pedestrian routes, trees, planting and gardens. Features include parkland lawns, rain gardens to capture water, wildflower grassland, insect and bird boxes, forest-scale tree planting across the site, and an area of new broadleaf woodland to provide a natural habitat for local wildlife.
A beacon of sustainable design
Sustainability and carbon neutral objectives have guided design thinking. Curzon Street is designed to be one of the most environmentally-friendly railway stations in the world and will meet a 'BREEAM excellent' standard - an industry recognised standard for buildings that reduce energy usage and materials waste, and minimise impact on the natural environment.
Adopting the latest environmental design and sustainable technologies, including sustainable power generation with over 2800m2 of solar panels located on its South Façade and its platform canopies, Curzon Street will be net zero carbon in operation. The surrounding landscape and urban realm utilise porous surfaces and 'rain gardens', and promotes a biodiverse setting to the station.
An accessible transport hub
HS2 Curzon Street station is designed to improve and integrate the transport connections with the existing and future different modes such as the Midland Metro running alongside and underneath the station, accessible pedestrian routes leading local bus services, Sprint rapid transit bus services and other train services.
Inclusive design is also at the heart of the proposals, with a clearly laid out progression of intuitive public spaces, open and accessible information 'hubs', quiet resting zones, children's play areas and generous movement routes.
***
On 1 July, HS2 Curzon Street was shortlisted for an IEMA Sustainability Impact Award. Launched by IEMA in 2019, the awards showcase the achievements of organisations striving to tackle the global challenges of the climate and environmental emergency. IEMA is the professional body for people working in environment and sustainability. The award winners will be announced on 18 September 2020 at the Brewery in London.