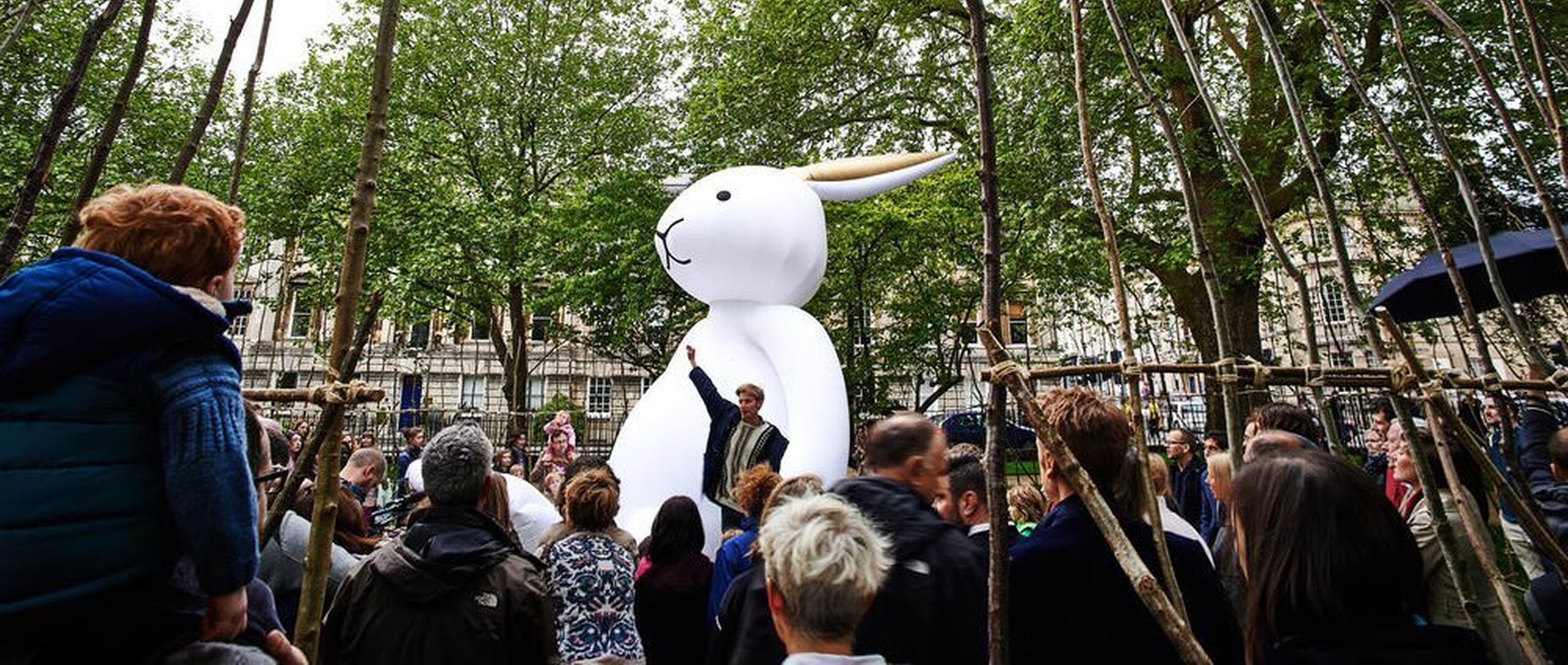 20th May 2015
Forest of Imagination welcomes over 6,000 visitors
Bath's historic Queen Square became the home for a magical "Forest of Imagination" this weekend, put together by a team of local creative organisations in a free 4-day contemporary arts event for the City.
Designed by Grant Associates, Forest of Imagination welcomed over 6,000 visitors who enjoyed chances to meet Dreamer, a 7.5 metre giant rabbit, play in a bamboo installation, make a forest book, assemble a giant monster from recycled materials, become Lost Explorers to discover the flora and fauna of the Forest with the House of Fairy tales and enjoy a series of talks on play and imagination.
On Monday 18May 2015, over 200 school children from seven local schools took part in a series of workshops to support creativity across their curriculum.
Penny Hay, Director of Research, 5x5x5=creativity and Senior Lecturer at Bath Spa University, said:
"Engagement, playfulness, ingenuity, joy and laughter permeated the Forest of Imagination. It was a great display of our collective imagination showing the true power of creative collaboration."
Andrew Grant, Director, Grant Associates, designer of the Forest of Imagination said:
"We wanted to create a mini 'Universe of Play' with four distinctly different worlds and an atmosphere of fun. Over the weekend the Forest of Imagination exploded into an entire galaxy of delight. Ingredients of enormous and tiny, light and dark, living and dead, old and young, sun and cloud, colour and sound all contributed to the special ambience."
Bath-based creative partners behind the Forest of Imagination included children's charity 5x5x5=creativity, landscape architects Grant Associates, Feilden Clegg Bradley Studios, design studio Imaginnovation, Herman Miller Cares, Bath Spa University, Bath Illuminate, Carpenter Oak, and The House of Fairy Tales. Artists and designers involved in the event included Edwina Bridgeman, Jono Burgess, Jessica Palmer, Alison Harper, John East, Helen Lawrence, Matthew Leece and staff and students from Bath Spa University.
For more information visit
www.forestofimagination.com