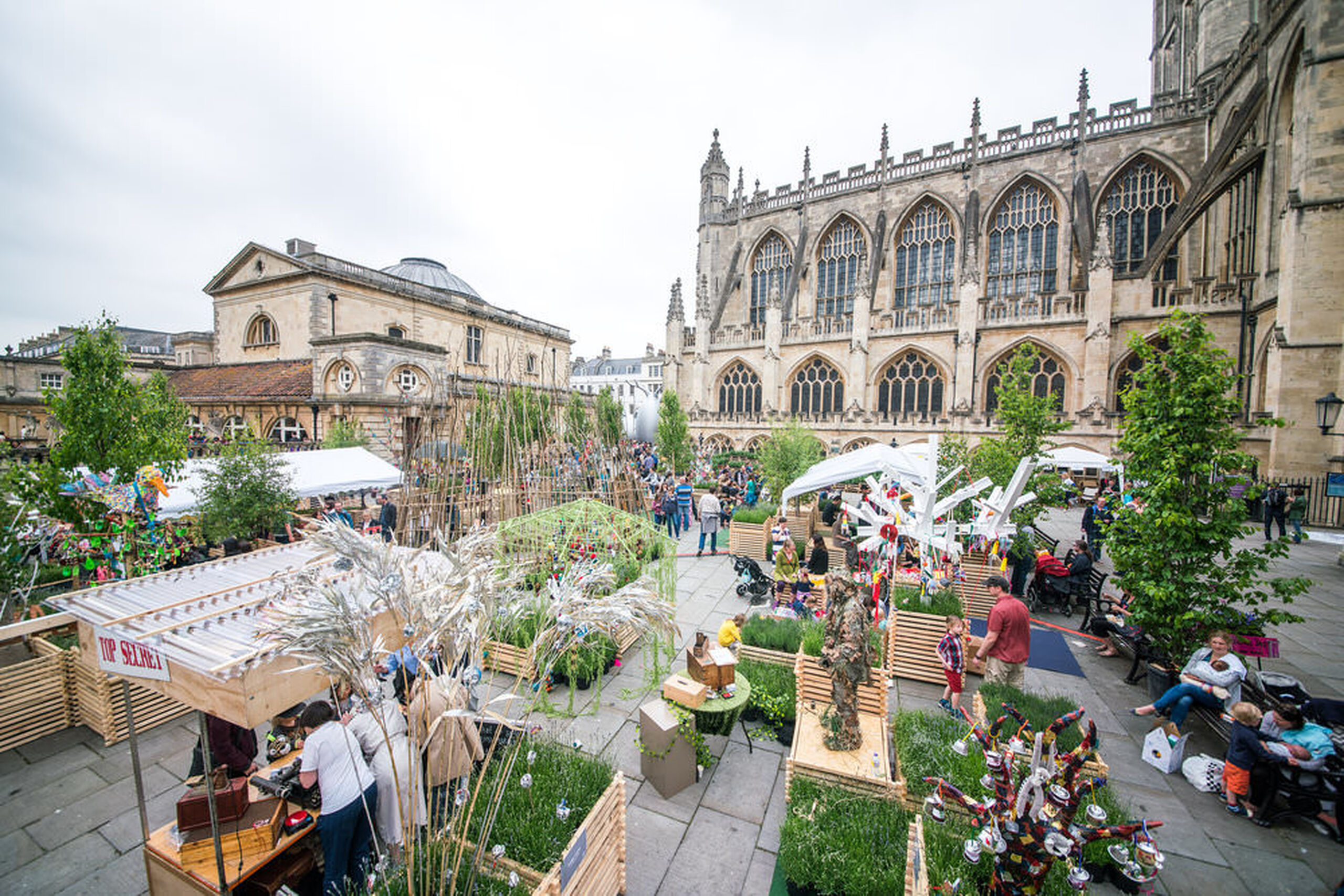 9th Jun 2016
Forest of Imagination grows to new heights with 10,000+ visitors
Contemporary arts event in and around Bath Abbey supported by Grant Associates welcomes over 10,000 visitors during its third year.

Forest of Imagination has bloomed to enjoy its most successful year to date after attracting an estimated 10,000+ visitors to its fantastical forests, outdoor galleries and creative workshops.

The brainchild of a collaborative team of Bath based creative businesses and organisations, including Grant Associates, Forest of Imagination is a celebration of creativity and nature that ran for its third year in the World Heritage City on 3-6 June 2016.

Free to all, the pop-up event saw Bath Abbey and nearby Abbey Green and Kingston Parade transformed by a playful programme of sensory installations, artworks and participatory creative activities for visitors of all ages.

Forest of Imagination 2016 included sound installations composed by Martyn Ware, founder of Heaven 17 and Human League, as well as artworks by local artists. Exhibitions featured illustrations by Perry Harris in portals dotted around the site, and a swarm of giant, colourful paper butterflies created by Anthony Head, which appeared to flutter inside Bath Abbey.

With a strong focus on conservation, especially the plight of wildlife in Madagascar, the event featured giant inflatable Baobab trees outside the abbey, while Bristol Zoo presented talks, and led workshops for local school children, about its lemur conservation project in Madagascar and around the globe.

Children's arts charity The House of Fairy Tales organised playful activities across the site, including a 'spy' game, and theatrical performances.

For the first time the event made use of Augmented Reality (AR) to offer an additional, virtual world for visitors to explore. Bath based technology firm Media Grand specially designed the 'Forest Eyes' app for 2016's Forest of Imagination.

Other attractions included a 'Creative Forest' where artists, schools and visitors were invited to create 'a thousand trees' by mixing fantastical, made trees with living specimens. The outdoor making space was created by Grant Associates, Feilden Clegg Bradley Studios and Carpenter Oak and Woodland with the support of event sponsor Herman Miller Cares and Wyevales Nursery.

Forest of Imagination is the result of the combined efforts of several Bath businesses and organisations, including arts-based charity 5x5x5=creativity, creative consultancy Imaginnovation, architects Feilden Clegg Bradley Studios, Herman Miller, Bath Spa University, as well as Grant Associates.