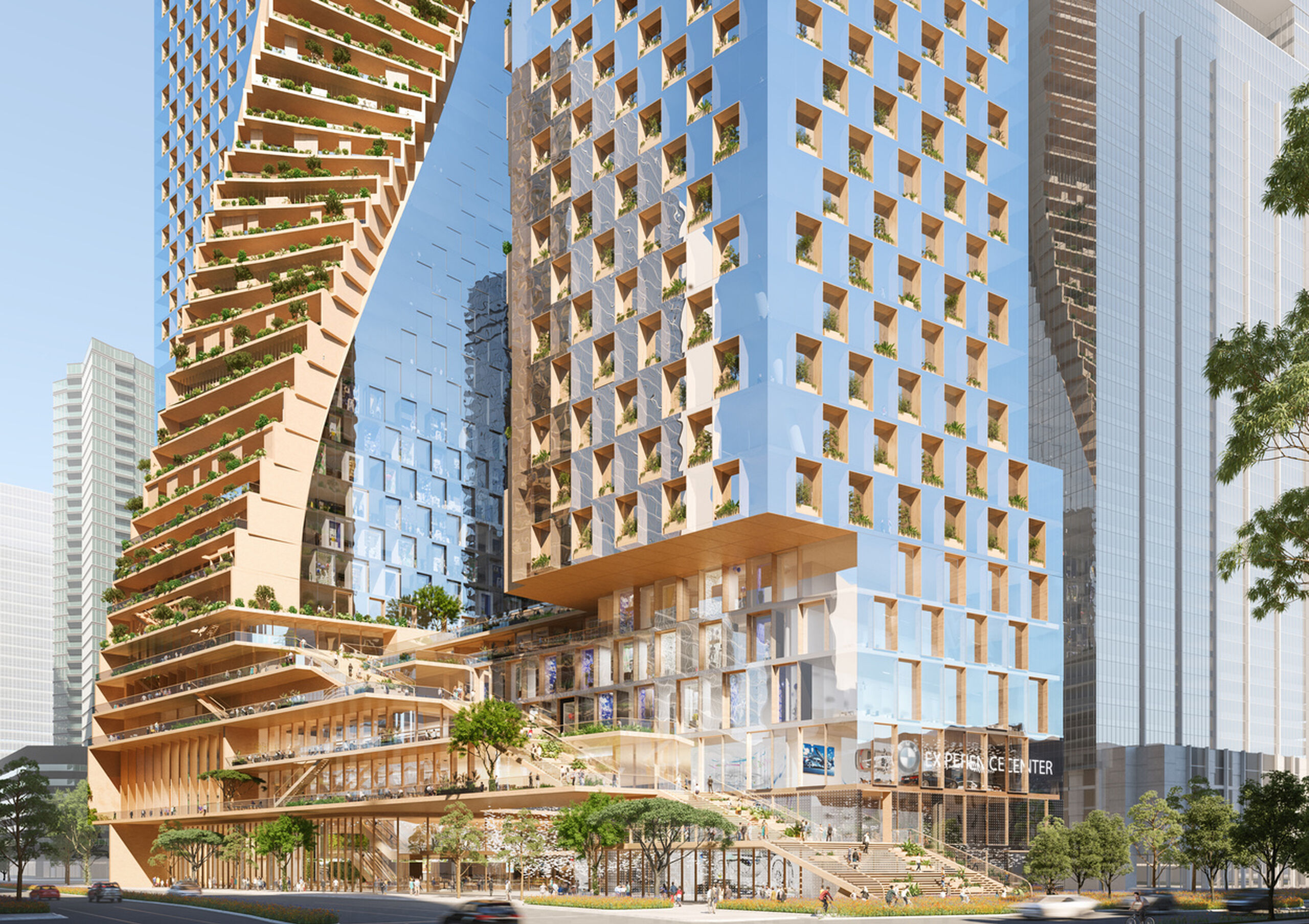 15th Apr 2020
Melbourne endorses plan for Australia's tallest building and 'world's tallest vertical garden'
A proposal to create Australia's tallest building achieved a major planning milestone when the City of Melbourne's Future Melbourne Committee (FMC) unanimously backed plans for Southbank by Beulah.
Designed by UNStudio and Cox Architecture with landscape and public realm design by Grant Associates, the AUS$2 billion mixed use scheme will, subject to Ministerial planning approval, see the construction of two twisting 'green' skyscrapers - which should become the 'world's tallest vertical garden'.
The highest of these - the east tower - will be 365.1 metres high over 102 levels, making it around 48 metres taller than Melbourne's Australia 108; a tower in the final stages of construction and currently the tallest building in Australia. The west tower will measure 250 metres across 59 levels.
Urban greening is central to the scheme's design concept and uses planted facades and outdoor spaces to create a 'green spine' that in turn connects with the public realm at street level up to the rooftops of both towers.
The integrated greening of Southbank will offer multiple benefits for the building users and the city. The vertical planting framework has been developed to promote the use of native species from SE Australia to contribute towards a net increase of urban biodiversity.
The east tower will be topped by a publicly accessible garden space, while extended planted terraces will characterise the facing facades of the two towers as they twist towards each other. The Future Garden at the top of the East Tower will provide an opportunity to use the 'garden' as a living symbol of the innovation and identity of Southbank by Beulah. The east tower will be residential, with the mixed-use west tower opposite accommodating office use, a hotel, restaurants and bars.
A podium connecting the two buildings will contain a school, day-care centre, library, cinema, auditorium and a BMW experience centre. The Podium Garden will be a destination garden grove which captures the sense of movement of the twisting towers and provides a natural retreat with flexible outdoor spaces for eating; socializing; leisure and events.
The ultimate planning decision for Southbank will be made by the Victorian Planning Minister Richard Wynne as the responsible authority for a planning application of this scale. Australian aviation authorities also need to approve the proposal. However, the City of Melbourne is a referral authority, and its endorsement represents significant progress for the Southbank scheme.
Keith French, Director at Grant Associates, comments:
"The landscape strategy and the overall vertical greening of the towers are seen as essential ingredients for Southbank by Beulah, which reconnects people with nature as well as promoting a healthy city community. The vision is to create a signature destination for Melbourne and Australia."