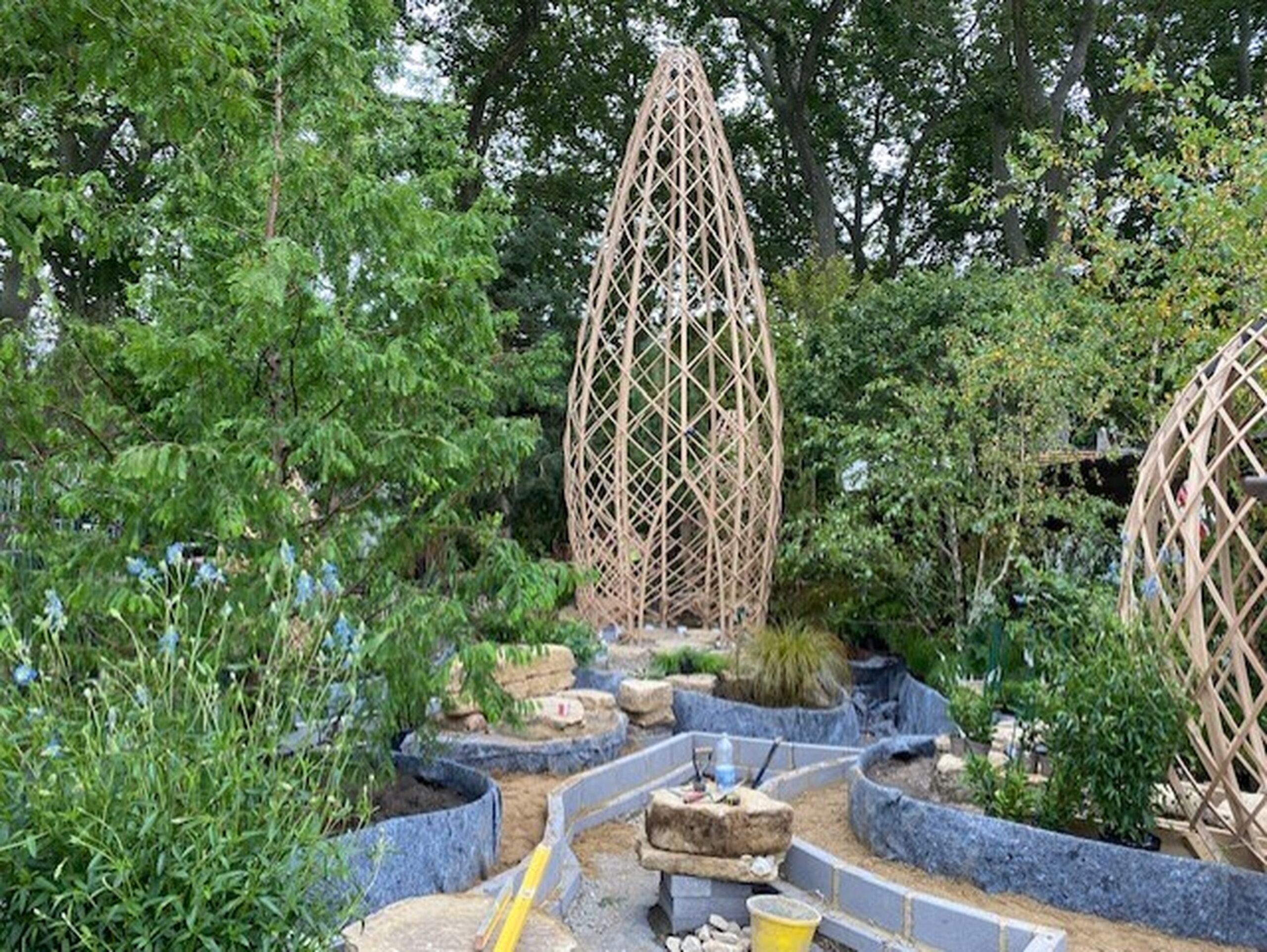 13th Sep 2021
Building the Guangzhou Garden: a Chelsea Flower Show diary
The first ever autumnal Chelsea Flower Show in the prestigious event's 108 year history officially begins on Monday 20th September. The long-anticipated show, originally planned to take place in May 2020 but postponed by the pandemic, will feature the usual fabulous floral displays and cutting-edge garden design.
Grant Associates is proud to be showcasing its first show garden at this year's Chelsea Flower Show 2021. The Guangzhou Garden looks to show how cities of the future must be considered as landscape cities and is an ambitious undertaking, as designers Peter Chmiel and Chin-Jung Chen look to capture the essence of vast and vibrant Guangzhou, with a population of 15 million people, and distill it down into a garden plot just 20 metres by 10 metres.
As the excitement builds for this year's event, Peter and Chin take us through the building of their garden as the pair's long-held creative vision becomes a reality.
Day 1: Wednesday 1st September 2021
An exciting day marking out and breaking ground for what will be The Guangzhou Garden. We know our plan works well on paper but the challenge is to now turn it into a reality! Five structures, 12 semi mature trees and 20,000 litres of water and 3,000 plants to fit into 220 m2 plot is a sizeable task, but we are excited to begin. The arrival of some of our garden's big trees provided plenty of interest today, and we were filmed by the BBC ahead of the structure's imminent arrival.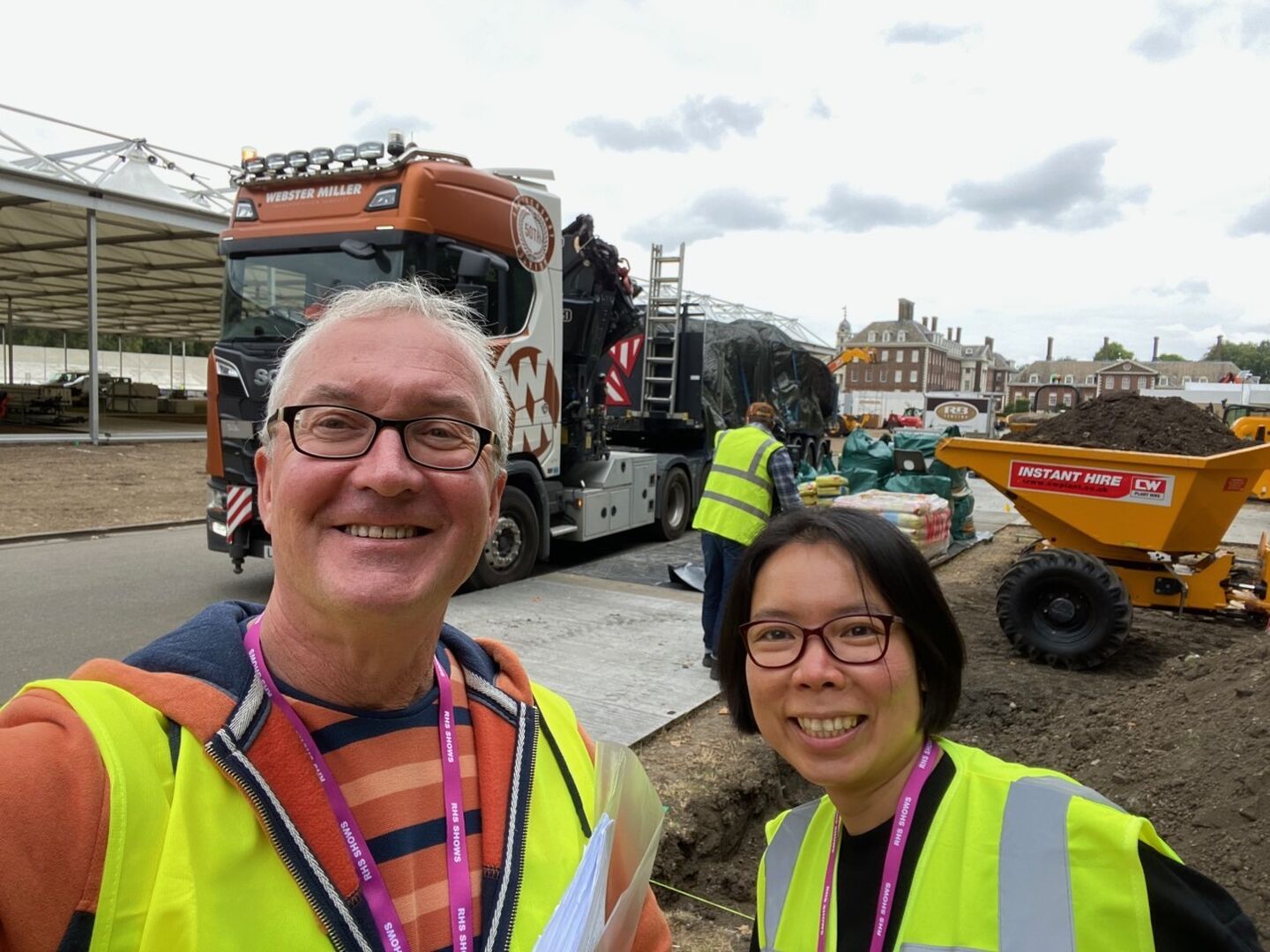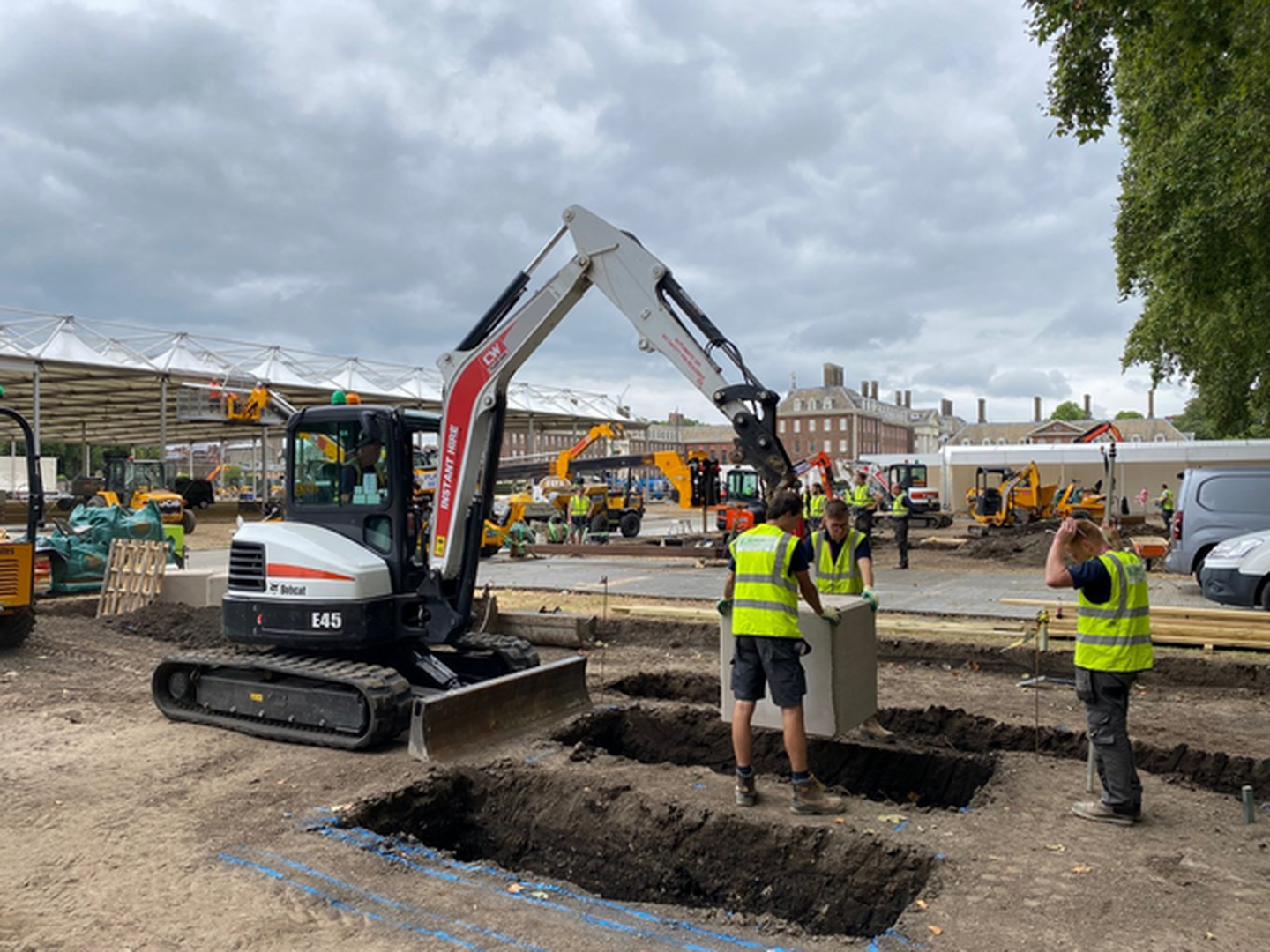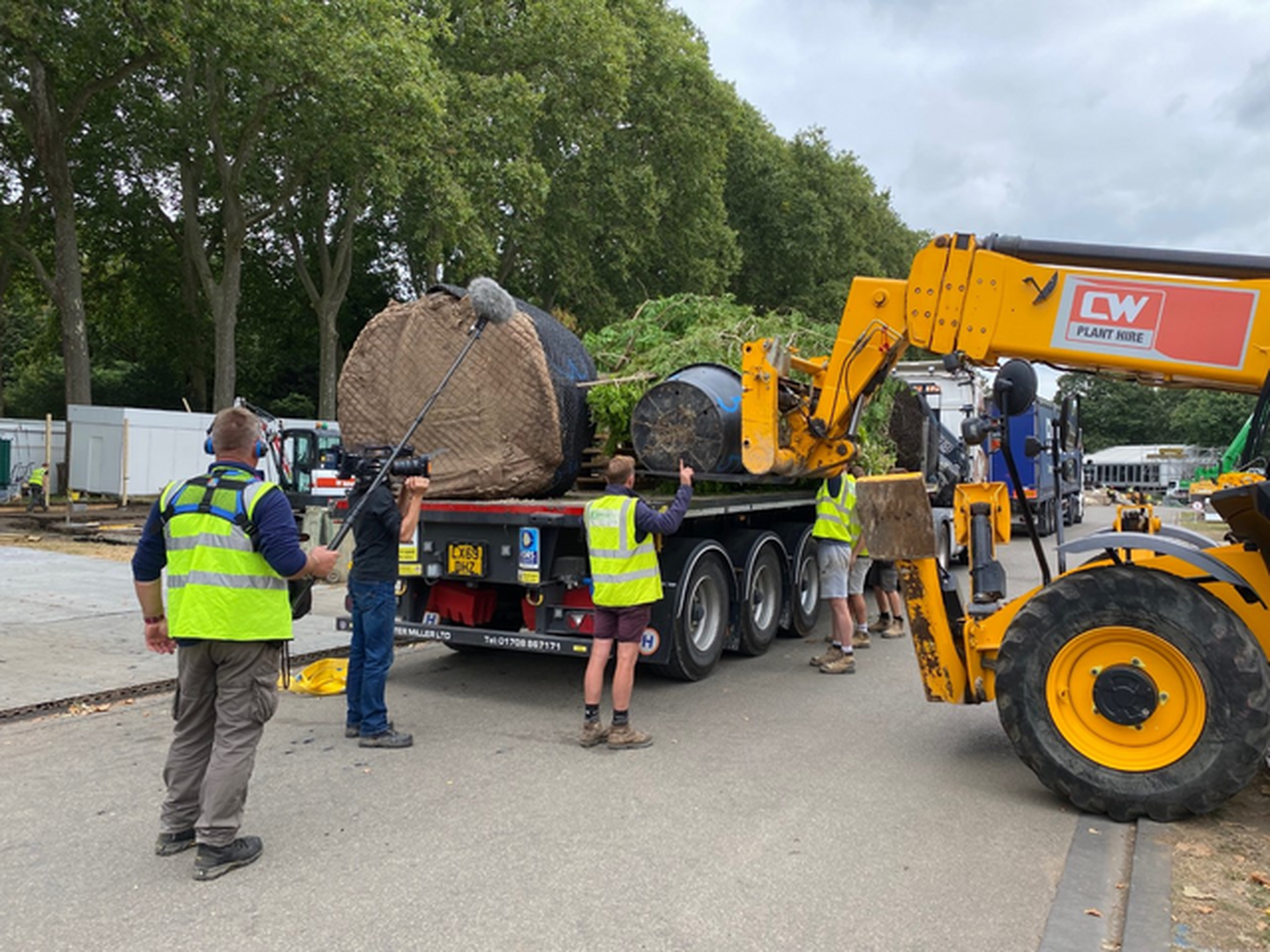 Day 2: Thursday 2nd September 2021
Twelve huge trees have been off loaded today, the tallest delivered being 10m in height! It's amazing how much they have grown in the last two years and we are sure they will have great visual impact. Off loading of the central big laminated bamboo structure structure and fixing it took six hours in total; time is everything at Chelsea so we need to press on and make up this time now.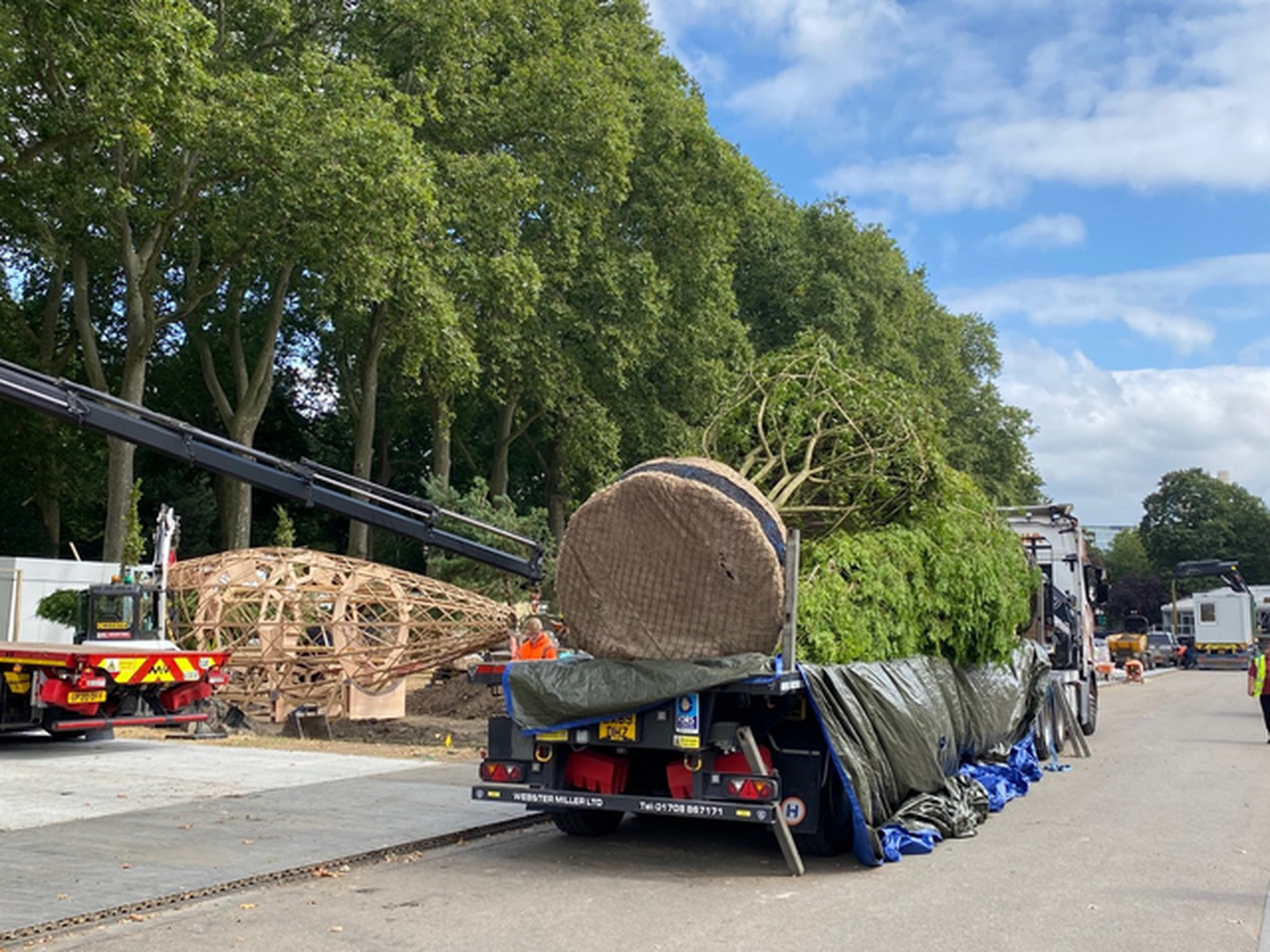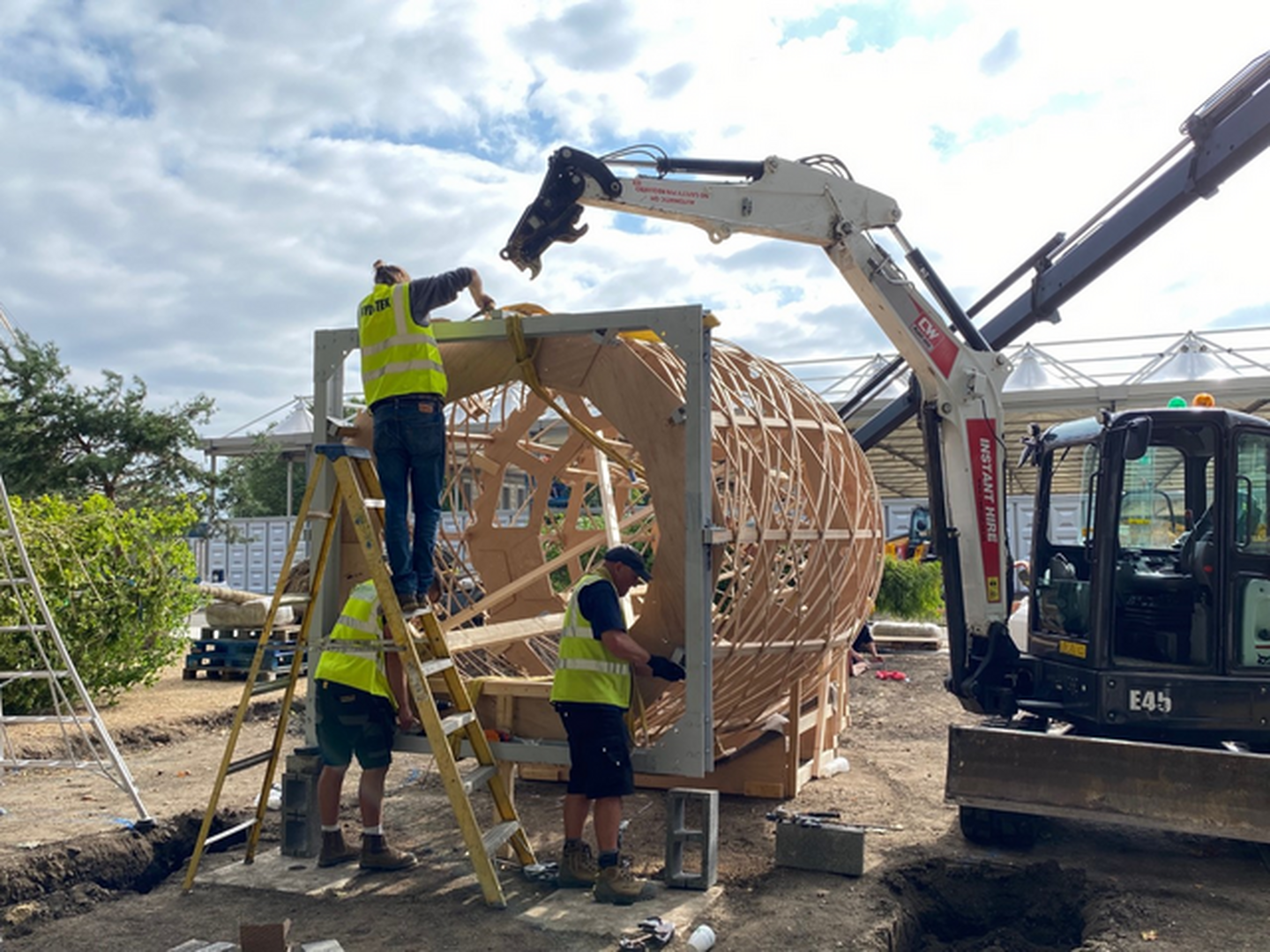 Martin Self, Design Director at Xylotek, adds:

"Xylotek were delighted to have been invited by Grant Associates to collaborate on this very special project: designing and manufacturing a series of five laminated-bamboo lattice structures - varying in height between 1.8 and 8.4 metres - for the Guangzhou Garden show garden at the 2021 Chelsea Flower Show.
We worked from early design stages to develop the geometric and structural principles and design for the structures and to determine the best material to use. The Mōsō Nfinity product – formed of glue-laminated strips of bamboo sourced from sustainable plantations in China – was chosen for its strength and durability in external conditions.
The structures were assembled in Xylotek's Bristol workshop, initially beginning in spring 2020 and restarting in 2021, when lockdown conditions permitted.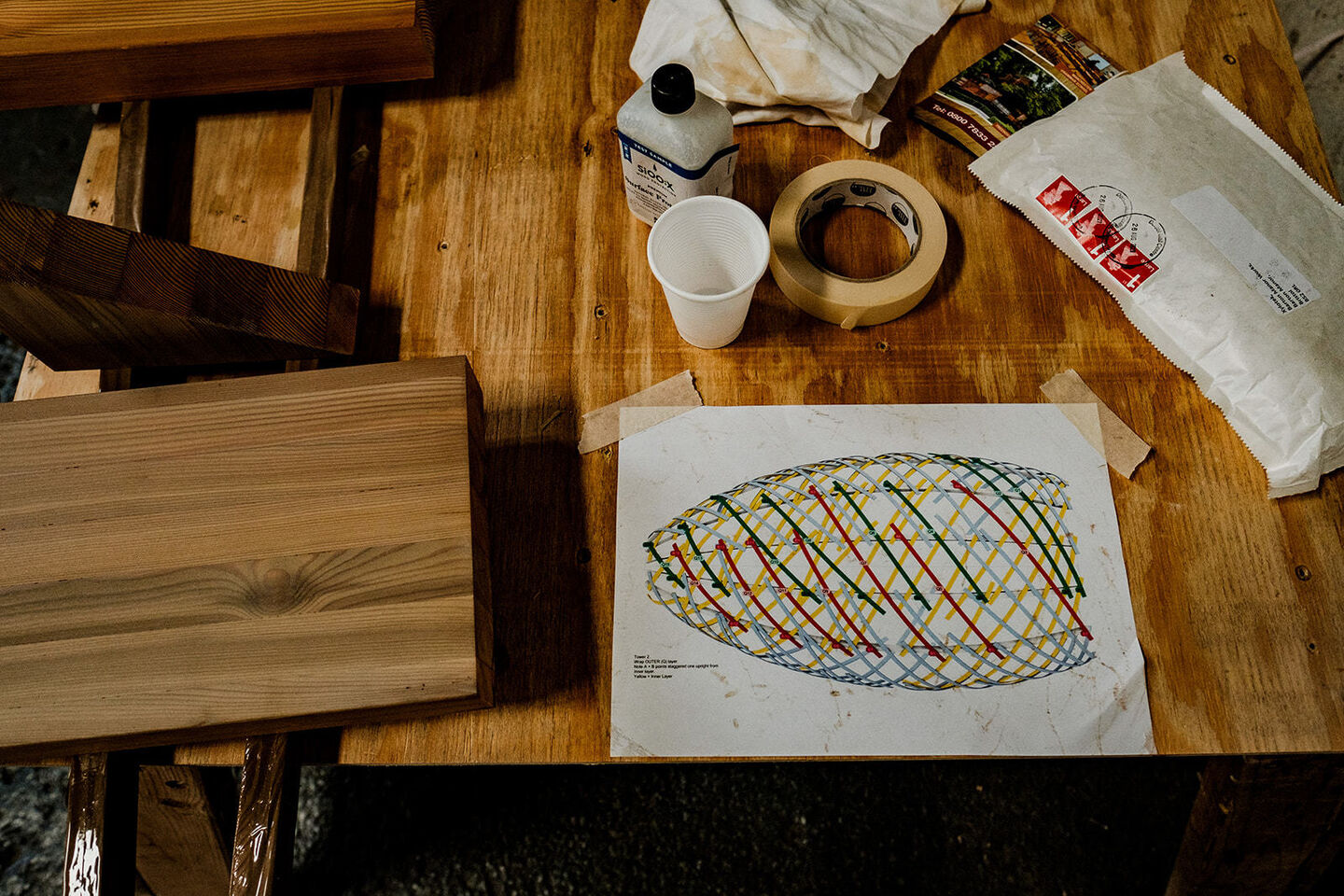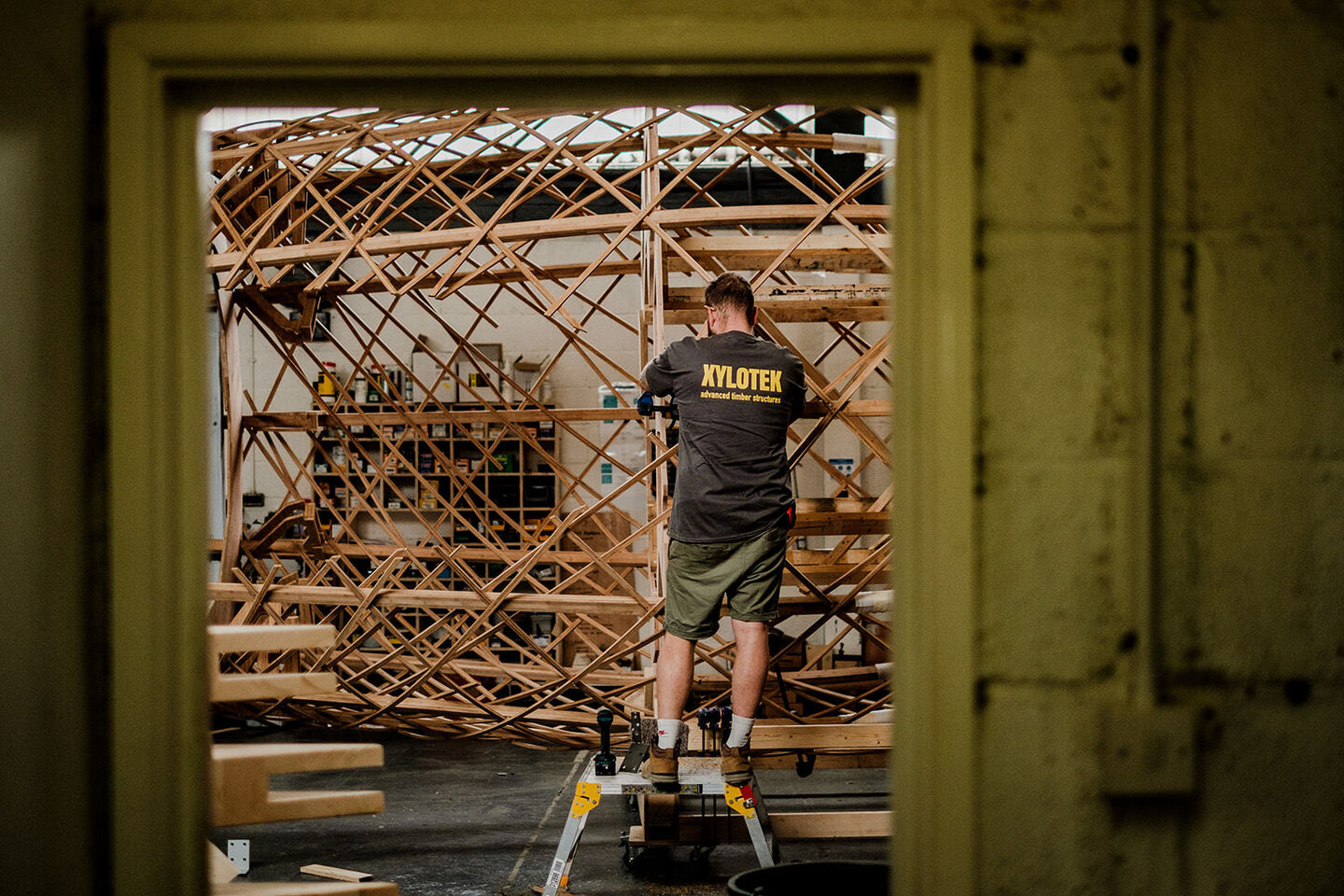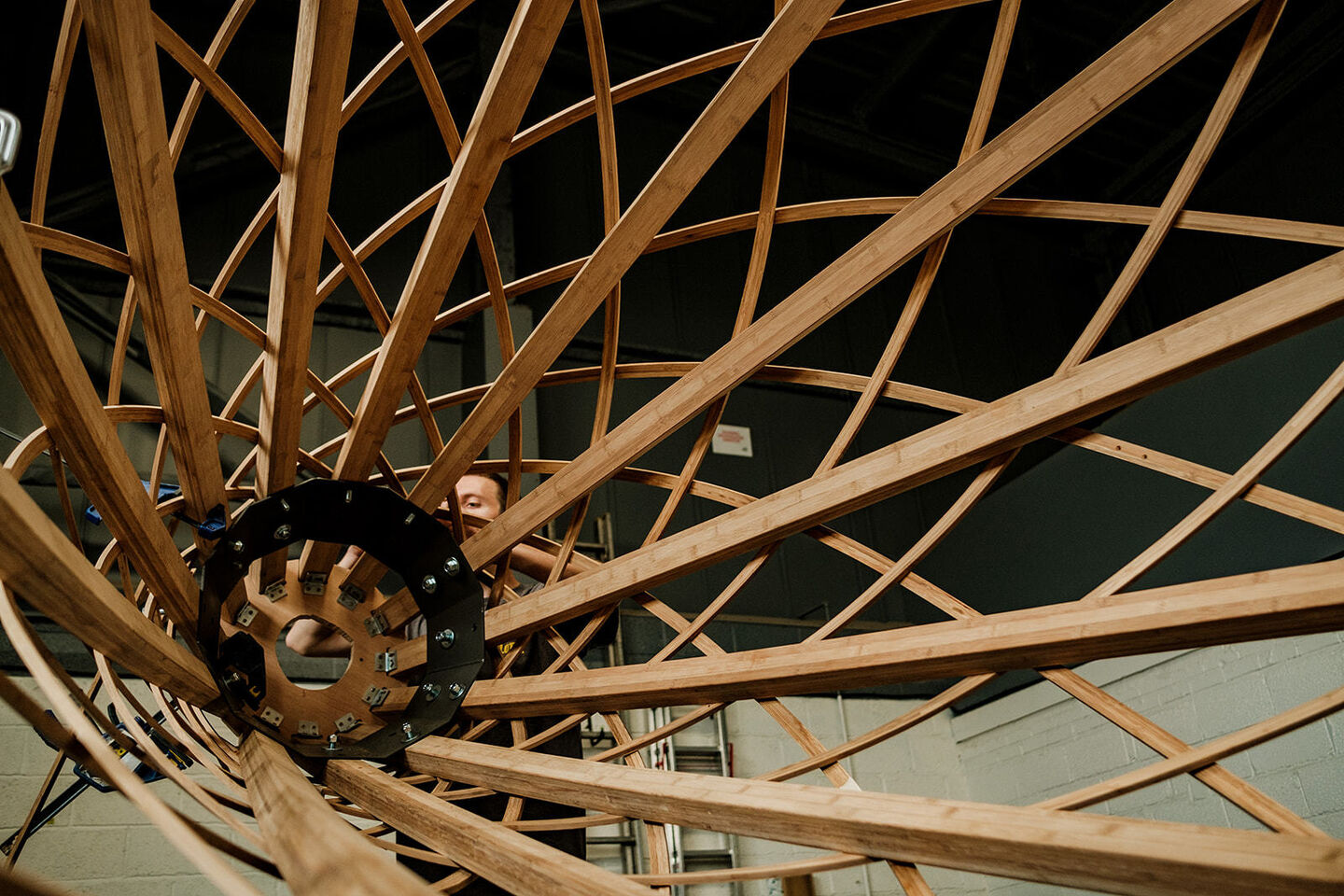 The largest structure required a bespoke axially-rotating assembly framework to be developed in order to allow the wrapping elements to be wound onto a temporary armature, until its own stiffness was achieved.

Having had the pleasure of designing a structure for the University of Reading at a previous Chelsea Flower Show, Xylotek were honoured to have been asked by Grant Associates to collaborate with them on the Guangzhou Garden, which gave us the opportunity to explore bamboo's technical potential and harness its capacity to create poetic new forms."
Day 3: Friday 3rd September 2021
The garden has really started to come alive now. The first section of the water rills are installed, the pond has been excavated and nearly all of the trees are in position. The stepping stone path has arrived and looks amazing, while ducting work is ongoing. A last minute check of the plant stock in the supply nursery is underway to make sure we have every plant needed for the garden.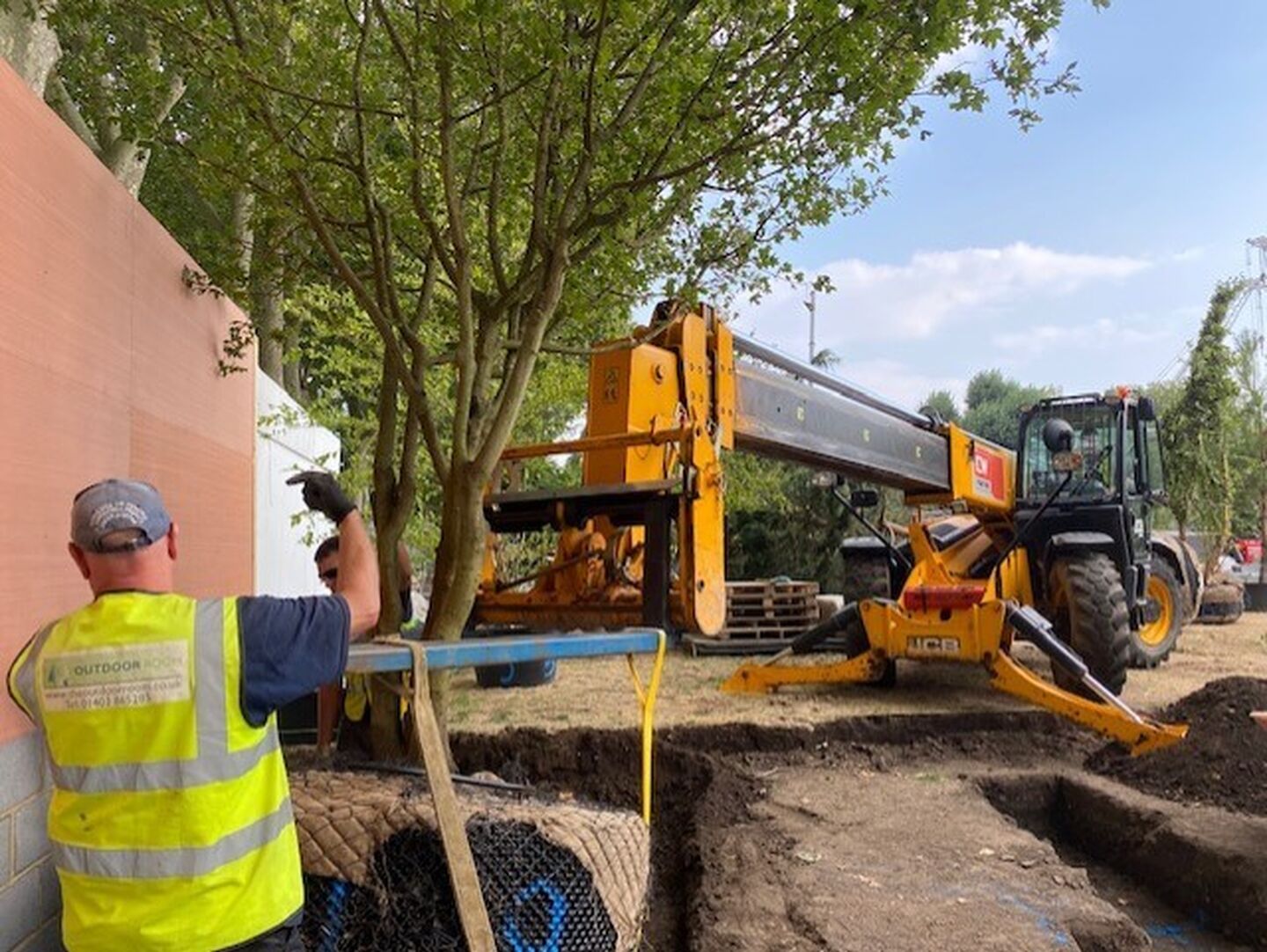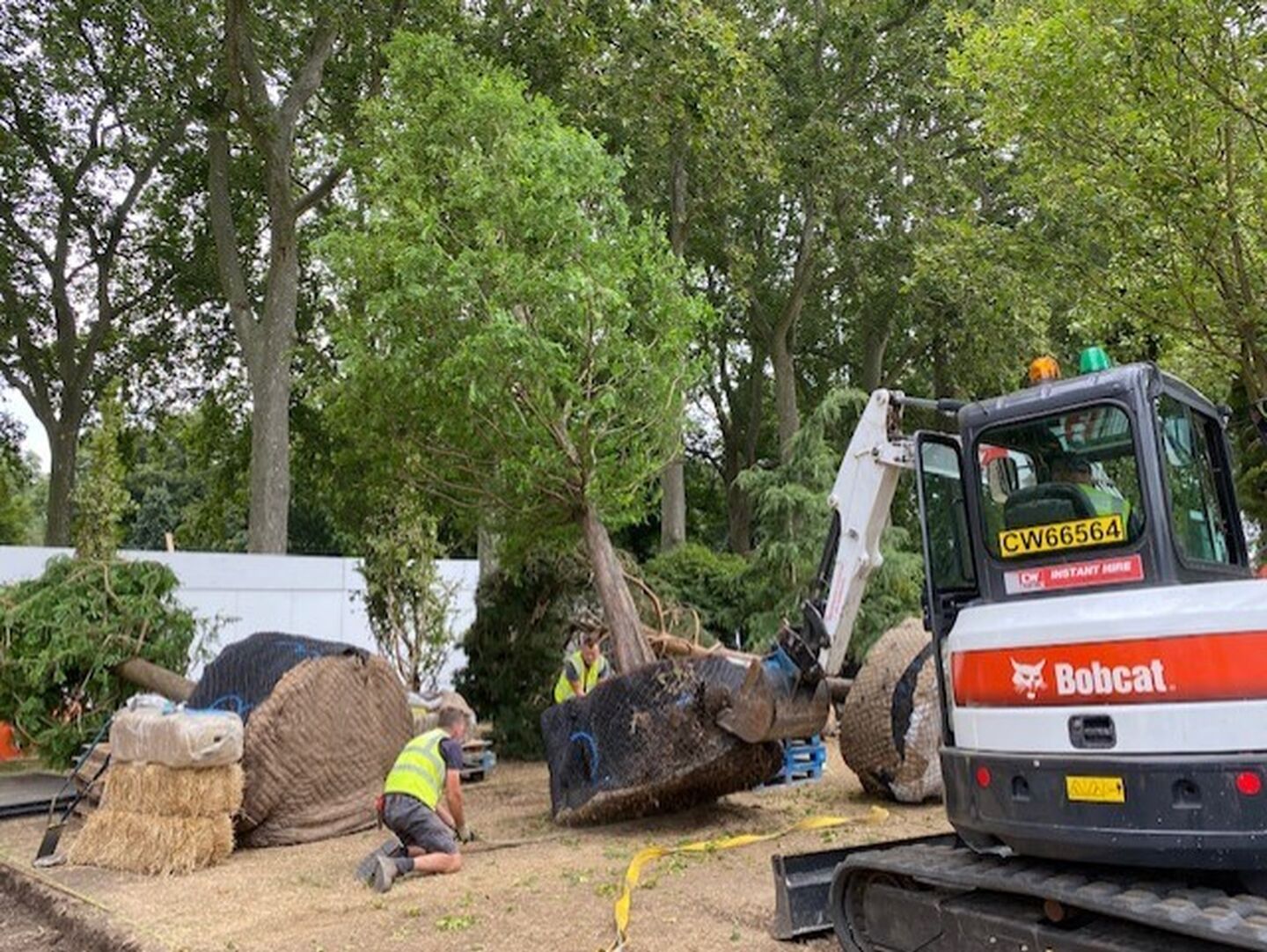 Day 7: Tuesday 7th September 2021
It's great to see all the garden structure in place today; fun and quite surreal to see all of the key elements turning up on the back of a lorry in full view through the city! The wildlife hide is sitting well in the green lung and the swing overlooking the social heart and blue kidney. Pond fleece has been placed and skimmer for pond installed, with the green well underway.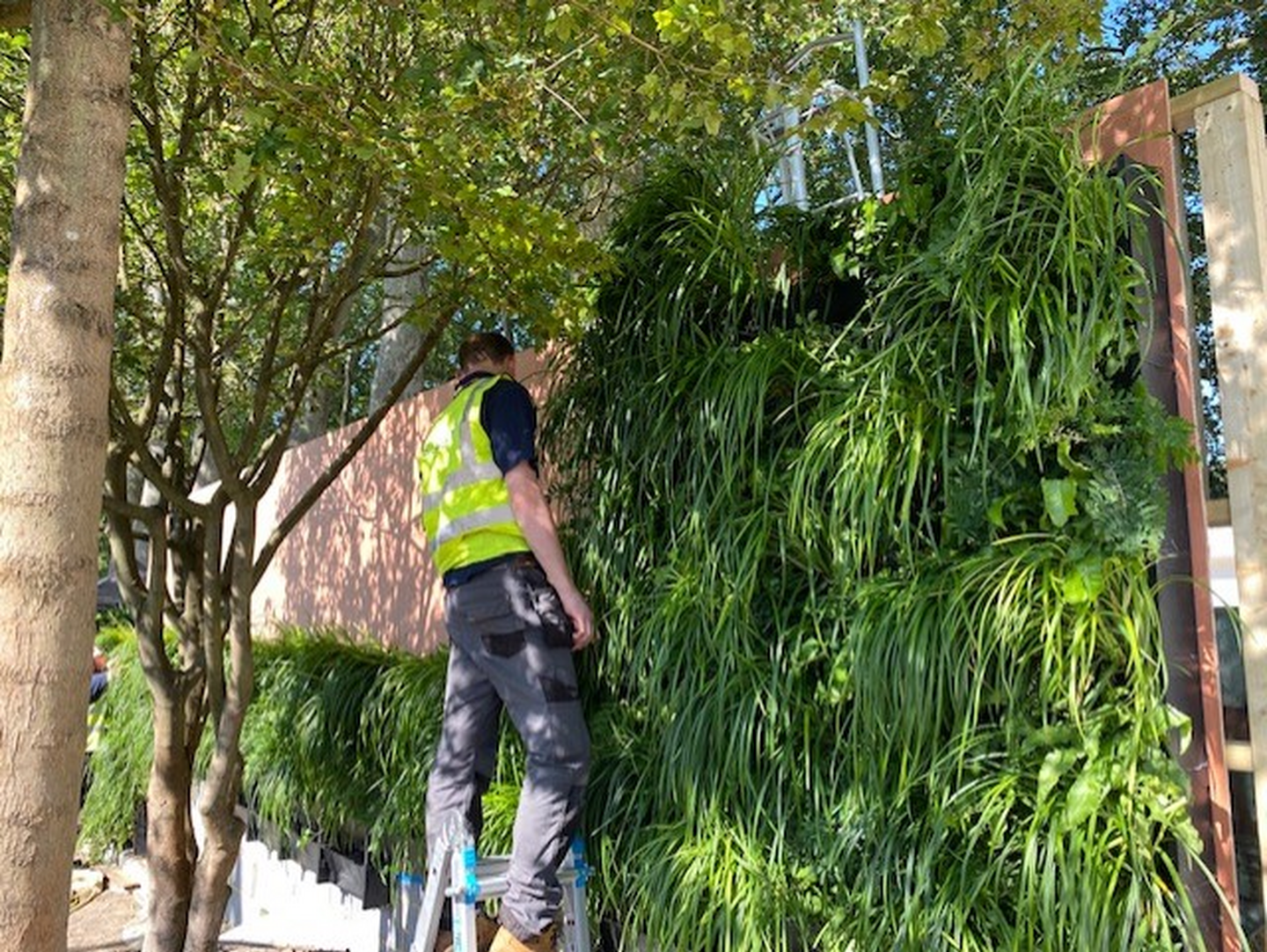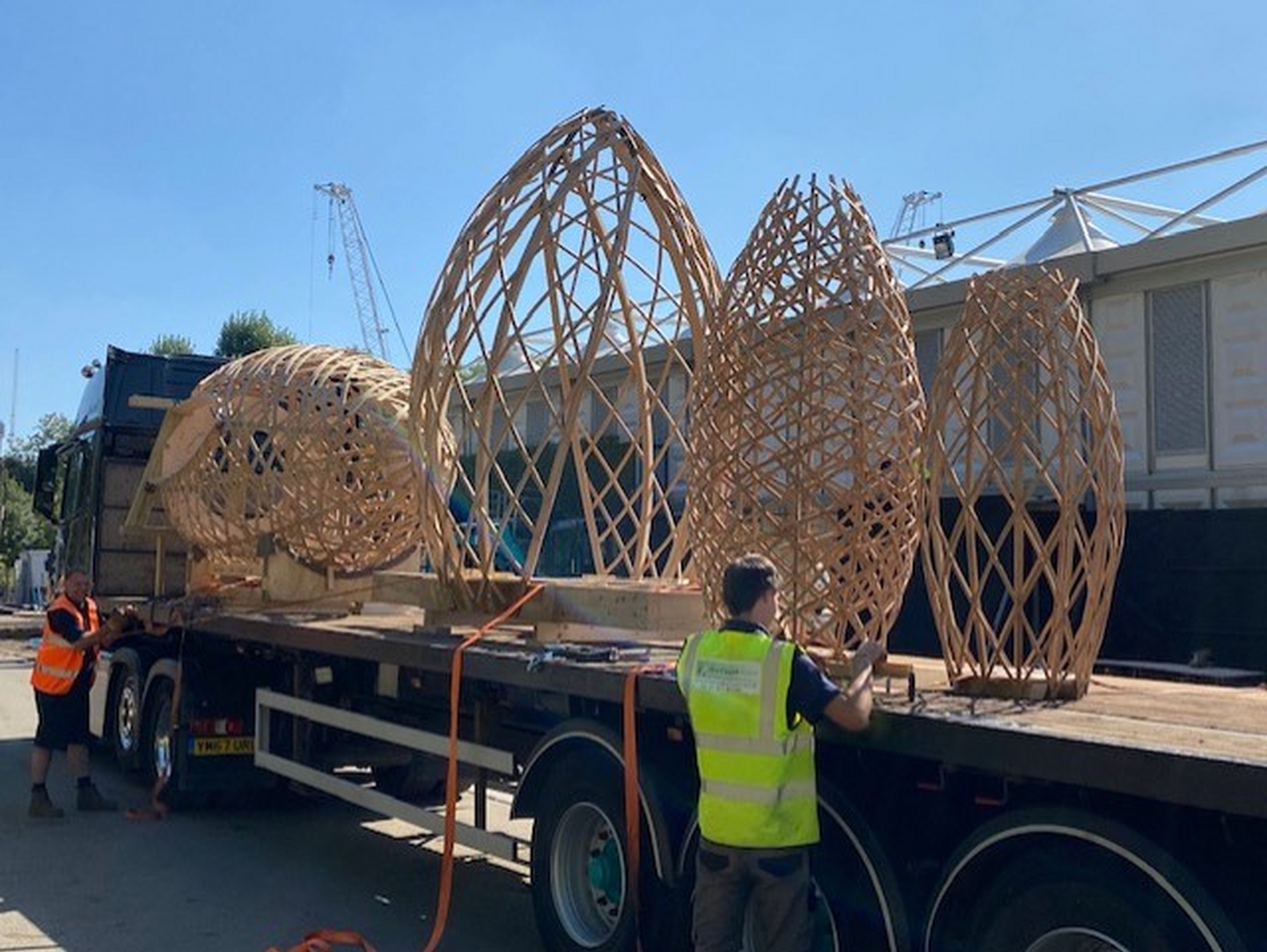 Day 8: Wednesday 8th September 2021
A very hot day on site today made for exhausting progress for all garden builders. The Guangzhou Garden's pond liner has now been installed, while preparation works continue for planting. Successful placement of heavy but beautiful stone and a start has been made in the Moso bamboo clad garden wall.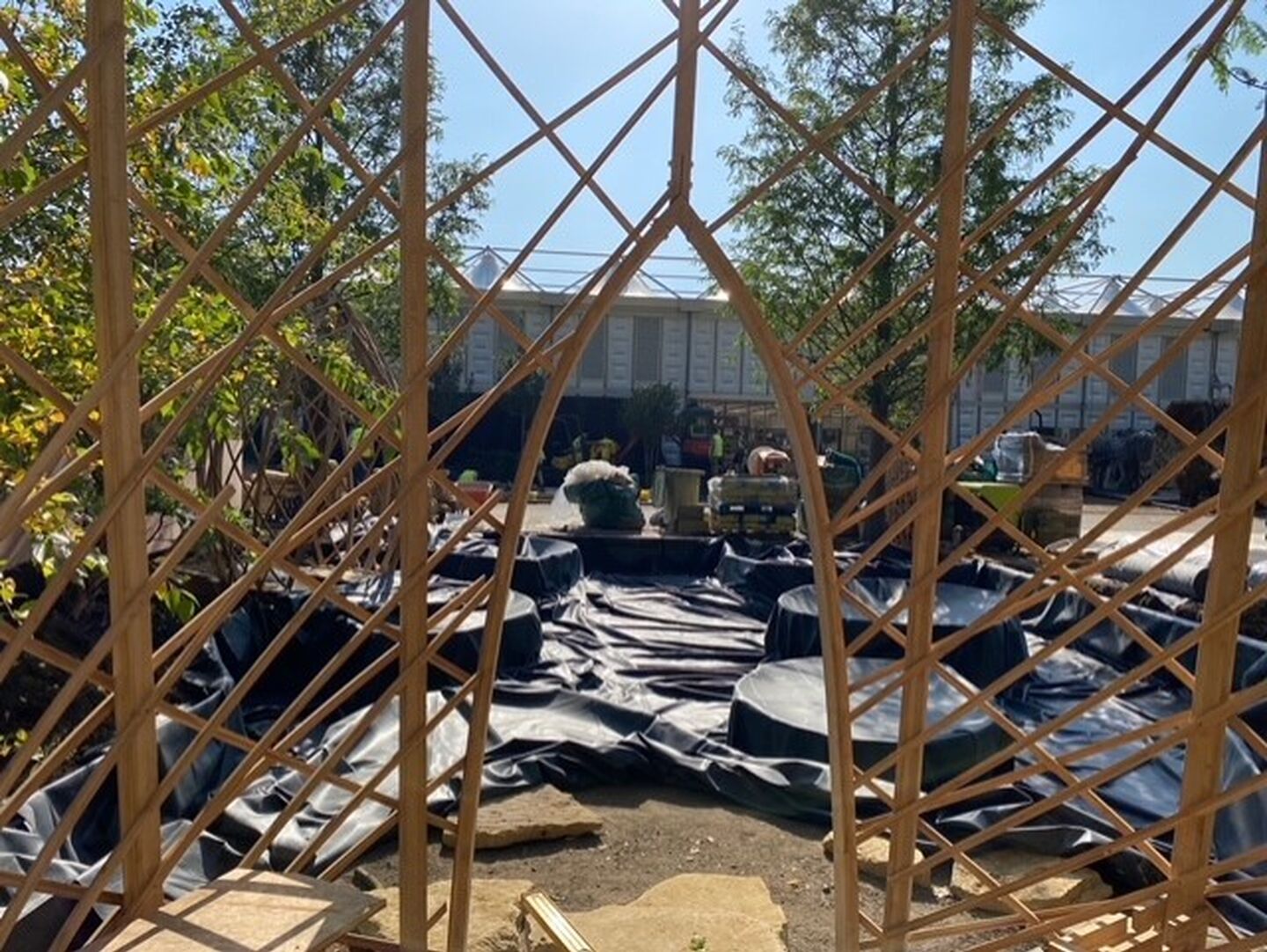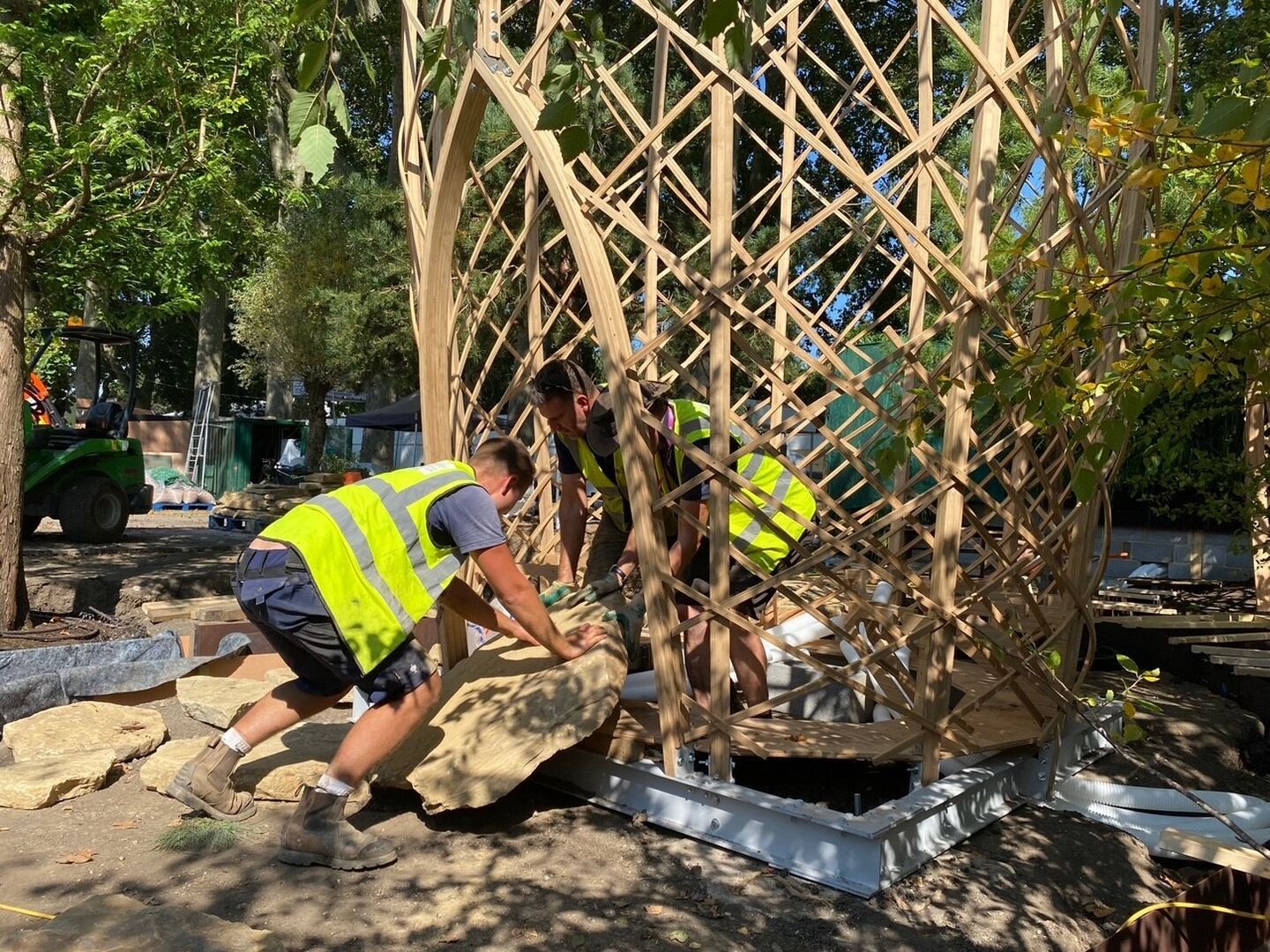 Day 9: Thursday 9th September 2021
Another hot day spend setting and levelling paving stones throughout the Garden. The second layer of the pond liner was fitted, alongside water feature pipe work installed throughout the site and side wall moso bamboo cladding. The installation of the green wall continues on.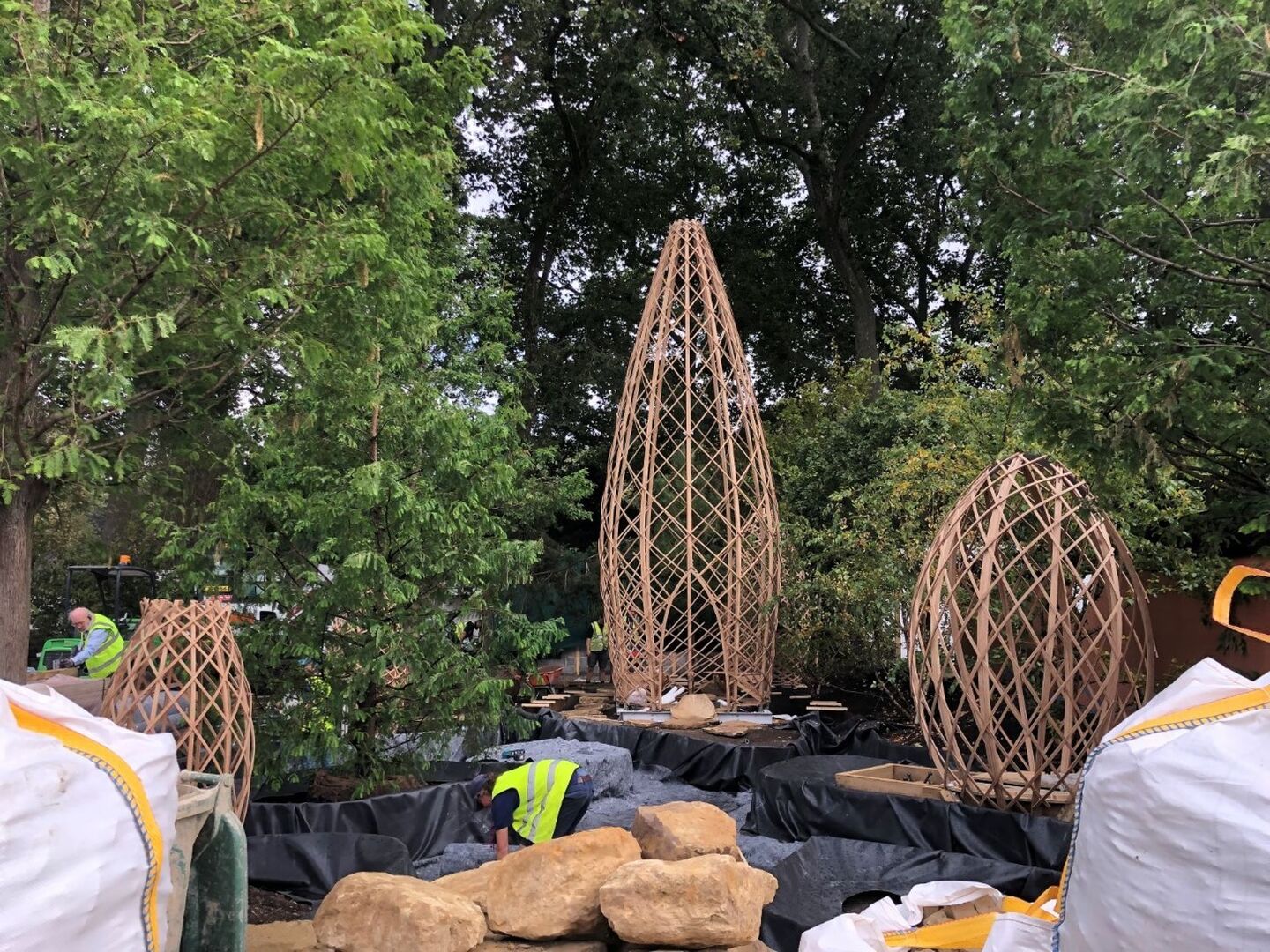 Day 12: Sunday 12th September 2021
The garden has really taken shape over the weekend, as launch day looms ever closer. The boundary fence is up and clad in a lovely dark laminated bamboo. Waterfall work is underway and all stepping stones are now in place. The hibernacula hole has been cut; first plant delivery arrived at 8am and most of the day has been spent testing the mix typologies .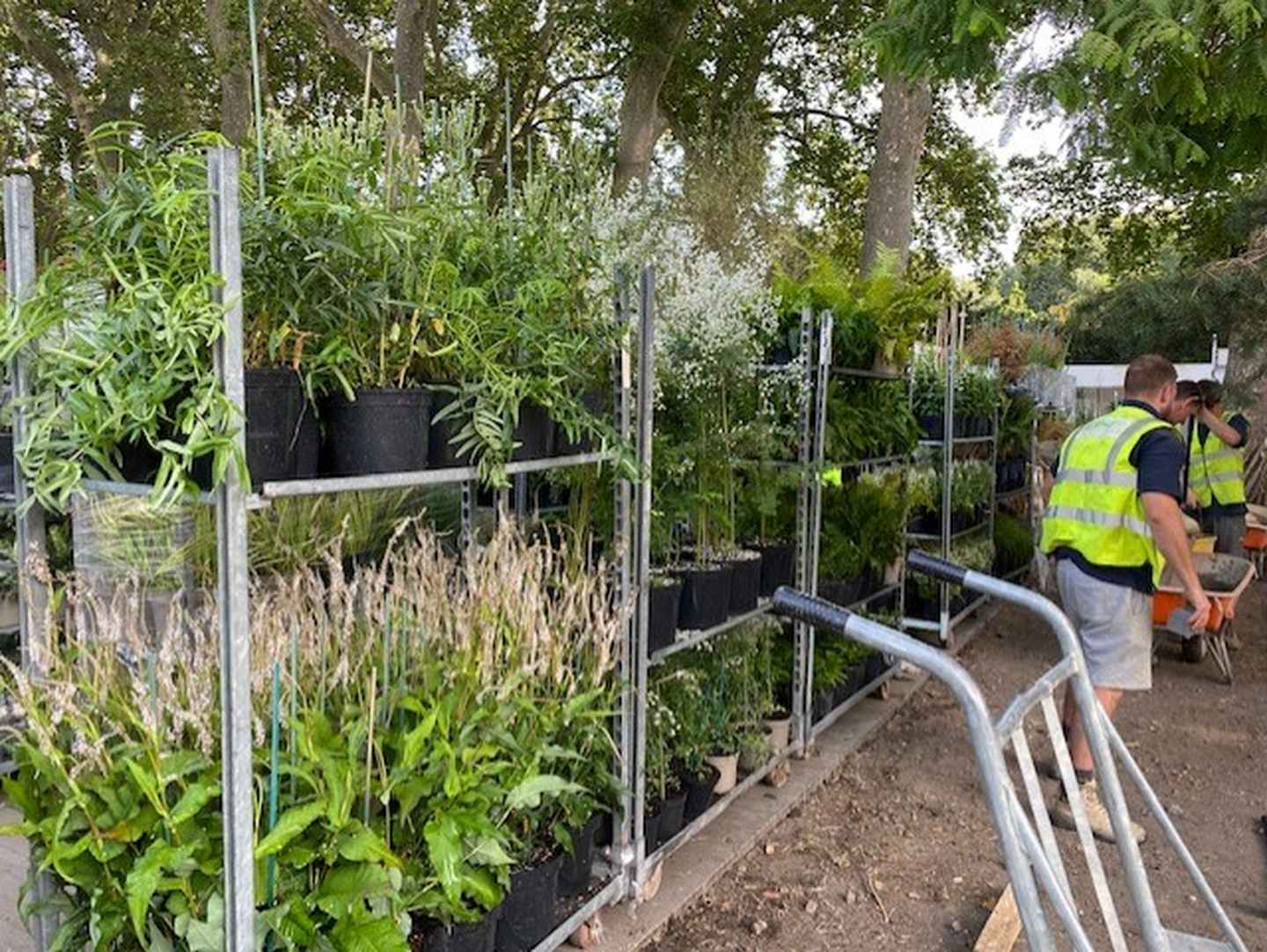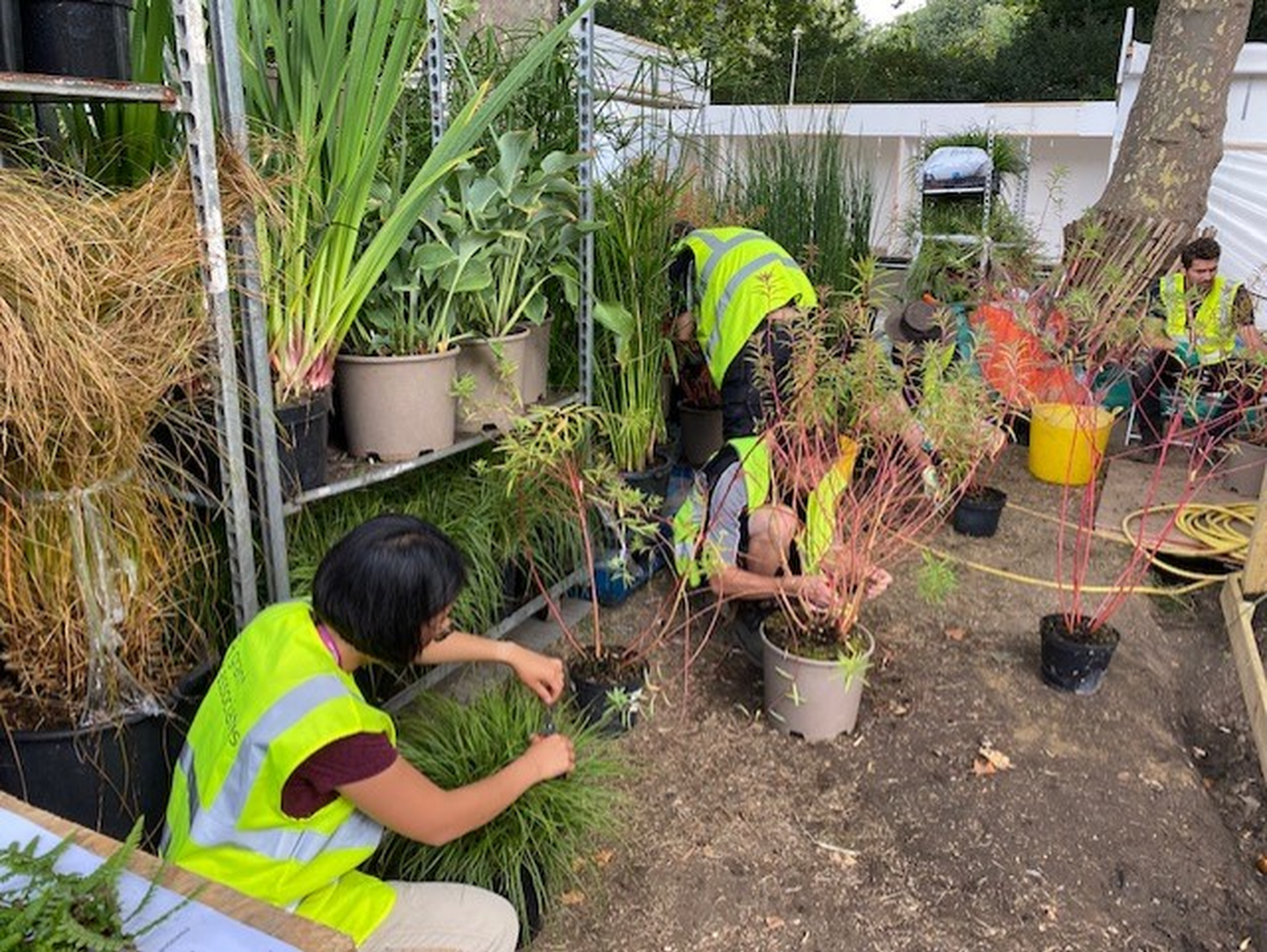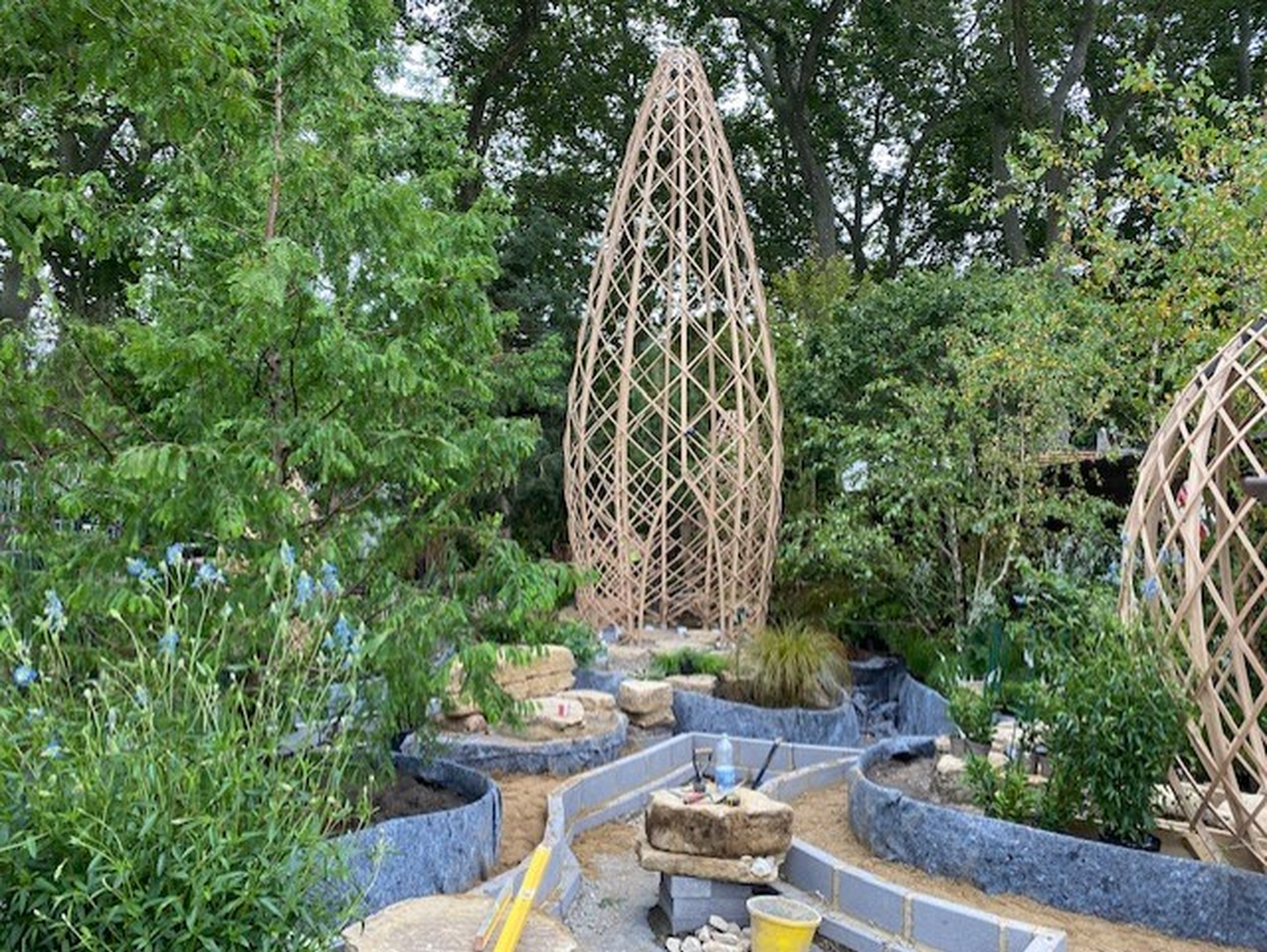 The Guangzhou Garden at Chelsea Flower Show 2021
The Guangzhou Garden has been designed by Grant Associates' Peter Chmiel and Chin-Jung Chen on behalf of China-based culture project consultancy Creativersal and the main sponsor is the Administration of Forestry and Gardening of Guangzhou Municipality. The garden is being created in collaboration with garden design consultancyThe Outdoor Room and nursery Kelways Plants. The prominent bamboo structures are being developed in partnership with Charlie Brentnall and Martin Self of Xylotek.

The Chinese-inspired garden pays homage to Guangzhou's philosophy which gives equal consideration to the needs of people and wildlife through sustainable city planning strategies, reconnecting people and nature in a mutually beneficial relationship.
Keep following Grant Associates on social media - Twitter and LinkedIn - for latest Chelsea Flower Show updates and news.